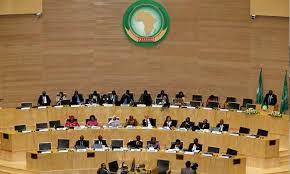 Morocco's efforts in maritime security in Africa and its pioneering role in developing initiatives focused on the Atlantic Area, were highlighted, Tuesday, before the Peace and Security Council (PSC) of the African Union (AU).
Speaking at a PSC meeting on maritime piracy in the Gulf of Guinea, Permanent Representative of the Kingdom to the AU and the UNECA, Mohamed Arrouchi, highlighted Morocco's efforts in the field of maritime security, as the Kingdom brought this issue, along with Togo, before the United Nations Security Council in 2012-2013.
This initiative led to discussions that culminated with the adoption of UN Security Council Resolution 2039, which encouraged the Economic Community of Central African States (ECCAS), the Economic Community of West African States (ECOWAS), and the Gulf of Guinea Commission (GGC) to develop a regional strategy on maritime security, with the support of the United Nations and other partners.
Highlighting the Kingdom's pioneering role in developing Atlantic area-focused initiatives, including the organization of the 1st ministerial meeting of African Atlantic States on June 8, 2022, in Rabat, Arrouchi stressed that the recommendations that sanctioned this meeting were relevant as they seek to turn the African Atlantic area into a framework for an African pragmatic and timely cooperation to address the various challenges facing the continent, including maritime piracy.