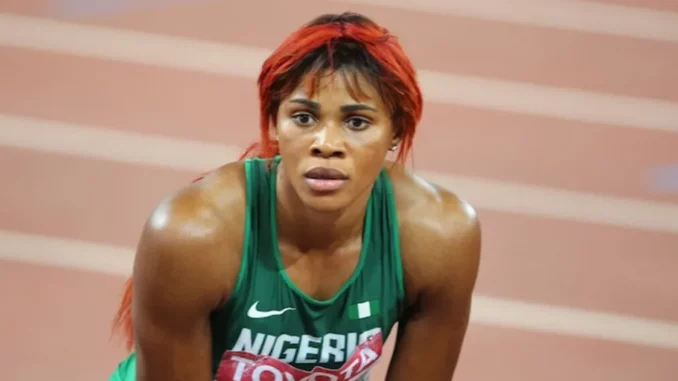 Nigerian sprinter Blessing Okagbare has had her anti-doping suspension raised from 10 to 11 years because of a new element in her case, which also deprives the Nigerian women's 4x100m relay of the World Championships in Eugene (15-24 July), the Athletics Integrity Unit (AIU) announced.
The case of Blessing Okagbare, Olympic runner-up in the long jump in 2008, is getting heavier month after month.
The Nigerian, one of the outsiders in the 100m at the Tokyo Olympics last summer, was initially provisionally suspended and excluded from the Games just before the semi-finals of the straight line on 31 July 2021 for doping with growth hormone, following an out-of-competition test on 19 July.
In early October 2021, the 33-year-old athlete was again found to have tested positive for EPO earlier in the season, before being suspended for 10 years in February for "multiple uses of prohibited substances" but also for her "refusal to cooperate" with the investigation. This time the IAU is accusing her of dodging a doping test on 13 June 2021 in Jacksonville, Florida, six days before she helped qualify her 4x100m relay for the 2022 World Championships. All his results from 13 June 2021 onwards are invalidated, including that of the 4x100m relay, the body announced in a statement.
Okagbare is also at the heart of the US investigation into Dr Eric Lira, the first person to be charged under the controversial "Rodchenkov Law", which allows the US justice system to prosecute and impose prison sentences of up to 10 years and fines of up to $1 million on anyone, regardless of nationality, involved in an international doping scheme.
Eric Lira is accused of purchasing performance-enhancing drugs such as growth hormone and erythropoietin (EPO) and distributing them to two athletes as part of a doping program during their preparation for the 2020 Olympics.