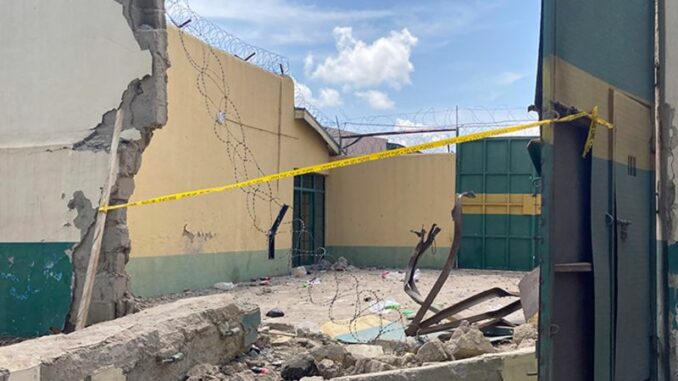 The government said on Wednesday that several hundred inmates, including about 60 jihadists, escaped from a prison on the outskirts of Abuja, Nigeria's federal capital, on Tuesday night after a suspected Boko Haram attack.
The 64 jihadists incarcerated in the facility escaped, "none of them are still inside," Defence Minister Bashir Magashi told reporters on Wednesday, adding that it was "very likely" that Boko Haram fighters carried out the attack.
Commanders of Ansaru, an al-Qaeda affiliated jihadist group, including leader Khalid Barnawi, had been held at the Kuje medium security prison since their conviction in 2017. Local residents reported hearing loud explosions and gunfire near the prison just 40km from the capital and the presidential villa on Tuesday night.
"We heard gunshots in my street. We thought it was armed robbers," said one resident. "The first explosion came after the shots. Then there was a second and a third.
President Muhammadu Buhari visited the scene on Wednesday afternoon, where the charred wreckage of a bus and several cars appeared to be frozen in front of a destroyed part of the prison.
As of late Wednesday afternoon, more than 600 inmates had been "recovered" and fewer than 100 others were still at large, said prison service spokesman Abubakar Umar. One security guard was killed in the attack, he added. Prison officials are still trying to determine the exact number of missing inmates, Umar said.
In the morning, security forces took about 20 recaptured inmates back to the prison in a black van. Former senior police officer Abba Kyari, who is being held at Kuje Prison awaiting trial on drug trafficking charges, is still in custody, he added.
A few hours before the attack on the Kuje prison, gunmen also ambushed a detachment of President Muhammadu Buhari's security guards – who were not in the convoy – near his hometown where he is due to visit this weekend in Katsina state (northwest).