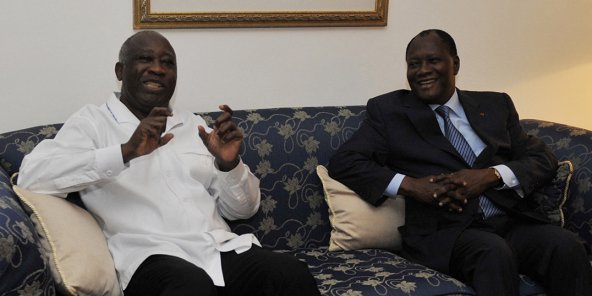 Ivorian President Alassane Ouattara received on Thursday his two predecessors Laurent Gbagbo and Henri Konan Bédié, a "reunion meeting" between the three men who had not been reunited since the serious post-election crisis of 2010-2011, a sign of the appeasement of the political climate.
In a warm atmosphere, President Ouattara welcomed Mr Gbagbo and Mr Bédié with whom he spoke for just over an hour.
"The meeting today was a reunion to renew contact and exchange in truth" on the major issues of the nation, according to a brief joint statement read by Laurent Gbagbo at the end of the meeting. The latter was chosen to read the text in his capacity as the "youngest", since at 77, he is younger than Alassane Ouattara (80) and Henri Konan Bédié (88).
The three men also expressed the hope that this meeting would be a catalyst for "the decongestion of the national socio-political climate in Côte d'Ivoire". They did not communicate further on the holding of their exchanges.
The idea of a meeting between the three men was one of the recommendations of the political dialogue between the government and the opposition held earlier this year to calm the political climate in Côte d'Ivoire. However, Alassane Ouattara hoped that this meeting would become "regular".
"Each time my predecessors have time to resume these exchanges, I will call on them to collect their opinions and recommendations. It will be a very good thing for the nation to hear, to listen to my predecessors, their knowledge of the country, their experience and obviously also the political weight they represent," he added.
The country has experienced several political crises in recent years involving these three men who have been in the limelight for decades. This was the first time that all three were together since the 2010-2011 crisis.