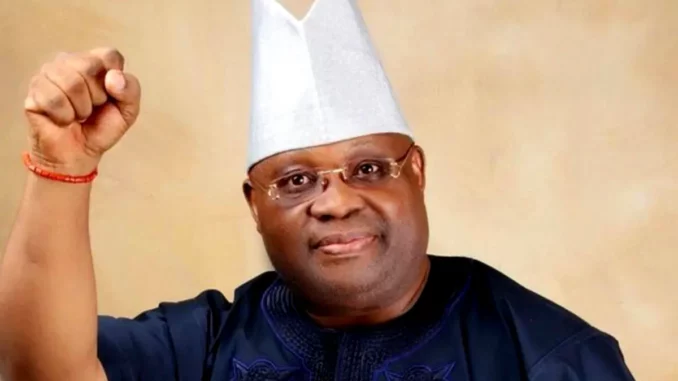 The candidate of Nigeria's main opposition party has won the governorship election in the southwestern state of Osun, the Electoral Commission said on Sunday, a setback for President Muhammadu Buhari's party seven months before the presidential election.
The regional election, the last before the presidential election, is a final indicator before the vote scheduled for February 2023 in Africa's most populous country.
Senator Ademola Adeleke of the People's Democratic Party (PDP) won with 403,371 votes against 375,027 votes for incumbent Governor Gboyega Oyetola of the ruling All Progressives Congress (APC), according to the Independent National Electoral Commission (INEC).
"I declare…that Ademola Jackson Nurudeen Adeleke of the PDP, having met the requirements of the law, is hereby elected," the Inec returning officer, Oluwatoyin Temitayo Ogundipe, said in Osogbo, the state capital.
According to Inec data, Mr Adeleke, 62, won 17 of the 30 local government areas in the state, while Mr Oyetola won 13 in the poll held on Saturday.
Shortly before noon, President Muhammadu Buhari congratulated Senator Adekele on his victory. "The people of Osun have expressed their will… and the will of the people must always be respected in a democracy," he said in a statement.
The PDP's victory is a setback for the APC, especially since Osun State is located in the southwest, the stronghold of Bola Ahmed Tinubu, the APC's presidential candidate, where he is nicknamed "the Godfather" for his influence and networks.
The PDP and its presidential candidate, former vice-president Atiku Abubakar, 75, are dealing a blow to the party of President Buhari, elected in 2015 and re-elected in 2019, who has announced that he will not stand for re-election in 2023, as provided for in the Constitution.