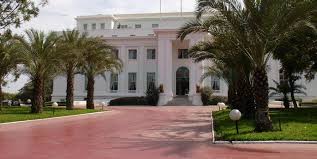 The Somali government's new leadership is facing a series of challenges as mortar shells hit neighborhoods near the presidential palace in Somalia's capital Mogadishu last Sunday without causing casualties, shortly after the parliament approved the government's composition.
Somalia, already threatened by looming famine with the worst drought in 40 years, has faced intensifying attacks by the Islamist Shebab insurgency in recent months.
On Sunday, "several mortar shells were fired at civilian areas in the Warta-Nabadda district", close to the presidential palace, said Mohamed Abdifatah, one of the security officials in the area. No casualties have been reported so far and an investigation is underway, he said. One witness said a shell damaged a private hospital.
The attacks, which have not been claimed, come after the parliament met on Sunday and endorsed the composition of the government presented on August 2 by Prime Minister Hamza Abdi Barre, by 229 votes in favor, seven against and one abstention.
Mr. Barre, appointed on June 15 by the new President Hassan Sheikh Mohamoud, elected in May, has formed a team of 75 ministers and deputy ministers.
Among them, Muktar Robow, 53, alias Abu Mansour, a former leader of the radical Islamist Shebab, linked to al-Qaeda jihadists and from whom he defected in 2017. He serves as minister of religious affairs.
The US embassy in Mogadishu on Sunday congratulated Mohamoud and Barre on the parliament's approval of the new government, stressing that the United States would continue to work with them to bring about a "Somali renaissance".