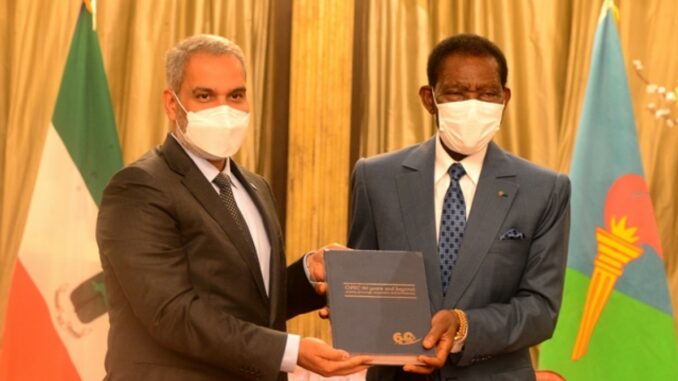 The President of the Republic, Obiang Nguema Mbasogo, has granted an audience this Monday to a high delegation of the Organization of Petroleum Exporting Countries, headed by its new Secretary General, Haitham Al-Ghais.
The Republic of Equatorial Guinea will assume the rotating presidency of the Organisation of Petroleum Exporting Countries in 2023; the Malabo authorities will work in coordination with the Central Office of the General Secretariat of this institution in Vienna.
These were some of the issues discussed at Monday's audience between His Excellency Obiang Nguema Mbasogo and Haitham Al-Ghais, the new Secretary General of OPEC.
OPEC is an organisation recognised since 6 November 1962 by the United Nations, thanks to resolution number 6,363, and is made up of 13 countries from Africa, Asia and America; the Republic of Equatorial Guinea has been a member since 2017.
Haitham Al-Ghais is a veteran of Kuwait Petroleum Corporation, who assumed the post of Secretary General of OPEC on 1 August this year for a period of three years, after the death of the Nigerian Barkindo, former leader of this institution, and in which he has chaired technical meetings of producers, both from the organisation and non-affiliated, led by Saudi Arabia and Russia.
His meeting with the Equatoguinean leader on 13 September, at the People's Palace in Malabo, also served to discuss upcoming meetings and actions for the year 2023, when the organisation will be chaired by the Republic of Equatorial Guinea.