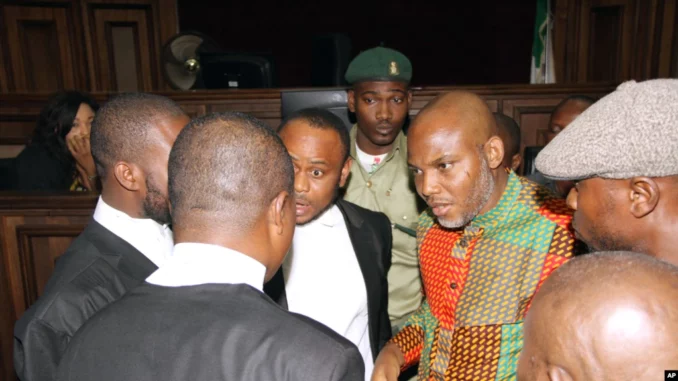 Lawyers for Biafran separatist leader Nnamdi Kanu said late last week that their client had been acquitted by a ruling of the Abuja Court of Appeal, although he remains in prison for the time being.
The ruling refers to Kanu's arrest abroad and transfer to Nigeria, a process the lawyers said was illegal and they said they had the process struck down.
"Extradition is an obstacle to the trial of Nnamdi Kanu," tweeted one of his lawyers Aloy Ejimakor, adding that his client is "thus freed of all charges."
Mr. Kanu is the leader of the Independence Movement for the Indigenous Peoples of Biafra (Ipob), which seeks the rebirth of a separate state for the Igbo ethnic group in southeastern Nigeria.
A British citizen, he was first arrested in 2015, but took advantage of his bail to leave Nigeria in 2017.
Late last week, two of his lawyers, Ifeanyi Ejiofor and Aloy Ejimakor, said the Abuja Court of Appeal had acquitted Mr. Kanu by withdrawing the charges against him.
However, Nigeria's attorney general, Abubakar Malami, responded to the ruling in a statement saying the separatist was discharged but not acquitted.
Malami said authorities will explore legal steps to revisit the court's decision. He said the court failed to take into account issues that took place before Nnamdi Kanu was extradited to Nigeria from Kenya last year.
The former Biafra, a deprived region in the southeast mainly populated by the Igbo community, was the scene of a bloody civil war between 1967 and 1970.
After the death of more than a million people, notably from famine, and the failure of the rebellion, the "Republic of Biafra" was finally reintegrated into Nigeria, a country of nearly 200 million inhabitants regularly shaken by intercommunal tensions. However, the desire for independence has not disappeared.
Southeastern Nigeria is experiencing an upsurge in violence, blamed by the authorities on ipob, which has repeatedly denied any responsibility.
Targeted attacks have killed more than 100 police and other security personnel in the region since the beginning of the year, according to local media reports.