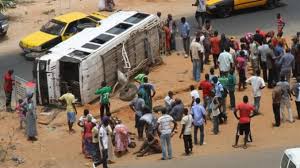 At least 24 people were killed Sunday in a road accident in Sougueta, a village near the city of Kindia, 130 km, West of capital Conakry, after a bus transporting students collided with a truck.
According to a government's statement, the bus was heading from Siugueta to Faranah, a town known for housing schools and universities.
"For the moment, we do not know the real cause of this accident," said Elhadj Kabinet Kaké, vice mayor of the rural commune of Linsan. The government has announced a probe into the tragedy.
In June, a string of road accidents resulted in about 30 deaths, numerous injuries and significant material damage.
Several people in the country blame the poor state of roads and cars as well as drivers' indiscipline for the accidents.