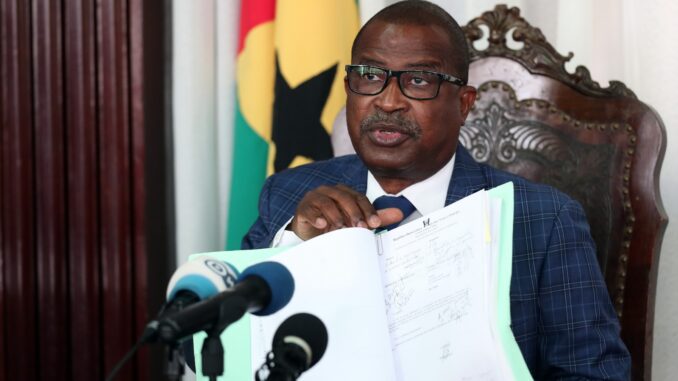 Delfim Neves' successor as president of the National Assembly of São Tomé and Príncipe, which begins its XII legislative term, is expected to be Celmira Sacramento, proposed by the Independent Democratic Action, which won the legislative elections.
The National Assembly of Sao Tome and Principe starts today the XII legislature, with the election of the president of the parliament, a position for which the Independent Democratic Action (ADI), which won the legislative elections, proposed the party vice-president Celmira Sacramento.
If elected, Celmira Sacramento will become the second woman president of the San Tomean parliament, after the SanTomean poet Alda do Espírito Santo, who held the position in the first legislature (1980-1985) and in the second legislature (1985-1991).
The 55 new deputies were sworn in, elected in the September 25th legislative, in which ADI, of the former Prime-Minister Patrice Trovoada, was the party with the most votes, winning an absolute majority (30 parliamentary seats).
The Movement for the Liberation of São Tomé and Príncipe/Social Democratic Party (MLSTP/PSD), of the current prime minister, elected 18 deputies.
The third political force in the São Toméan parliament, with five elected members, will be the coalition Movement of Independent Citizens-Socialist Party/National Unity Party (MCI-PS/PUN, better known as the 'movement of Caué', a district in the south of the island of São Tomé).
The newly-created Basta movement – which absorbed the historical Democratic Convergence Party (PCD) and took in former ADI members – made its debut in the legislative elections and won two seats.
The plenary session of the beginning of the XII legislature will start at 8am local time (same time in Lisbon), followed by the election of the commission of verification of powers and election of the provisional table that will conduct the work until the election of the definitive table of the National Assembly.
In the second part of the works, according to the official program, it foresees the honor commitment and the speech of the elected president of the National Assembly, besides a message from the President of the Republic, Carlos Vila Nova.
The ceremony takes place in the presence of the head of state, the prime minister, Jorge Bom Jesus, and other members of the outgoing government, the attorney general, the presidents of the Constitutional Court, the Supreme Court of Justice and the Court of Auditors, as well as former presidents of the Republic and president of parliament, and representatives of the diplomatic corps.