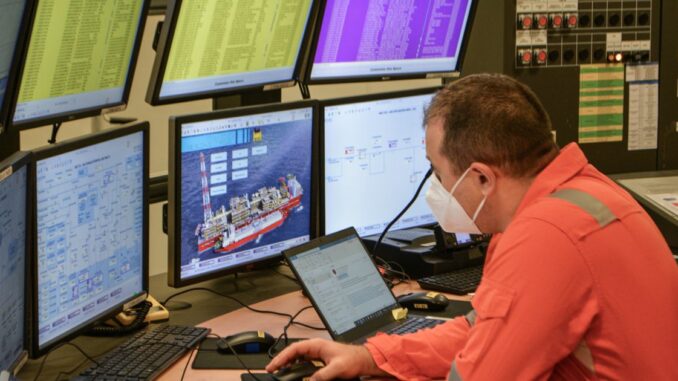 The Mozambican President, Filipe Nyusi, compared Wednesday the first export of gas from Rovuma to a successful delivery, during the inauguration of the Coral Sul floating liquefaction platform.
"On the 13th, we were all waiting. I was talking to Minister Zacarias [of Mineral Resources] all the time as if I were with a mother in the maternity ward waiting to give birth. And the parents, the husband, the children, the siblings, everyone is nervous, but everything worked out fine," he said.
The head of state was speaking on his first visit to the platform operated by the Eni oil company that 10 days ago filled the first cargo ship with liquefied natural gas (LNG), placing Mozambique in the club of exporting countries.
The emotional comparisons did not stop there.
Earlier, while visiting the platform control room, Filipe Nyusi compared the arrival of the first vessel to a wedding, when he heard an operator explain that the docking operation of the LNG cargo ship took time, because everything had to go perfectly – and the Head of State recalled that the groom always has to wait a little for the bride.
The Mozambican president also called Coral Sul a "baby," as he recalled that she was christened by the first lady, Isaura Nyusi, a year ago at the shipyards in Geoje, South Korea.
Today, Isaura Nyusi is unable to travel to the infrastructure, but has promised a visit for another time.
The baby has grown and today is home to 321 employees, 80 of whom are Mozambican.
The Coral Sul gas extraction and liquefaction platform is the first in deep water and the first project of its kind developed in Africa.
Production (3.4 million tons of natural gas per year) takes place within Mozambique's Area 4 exploration and is sold to oil company BP for 20 years.
The platform has storage tanks on the hull and 13 modules above them, including a liquefaction plant, an eight-story module where 350 people can live, and a runway for helicopters.
Area 4 is operated by Mozambique Rovuma Venture (MRV), a joint venture co-owned by ExxonMobil, Eni and CNPC (China), which holds a 70% participating interest in the concession contract.
Galp, KOGAS (South Korea) and Empresa Nacional de Hidrocarbonetos (Mozambique) each hold 10% stakes.