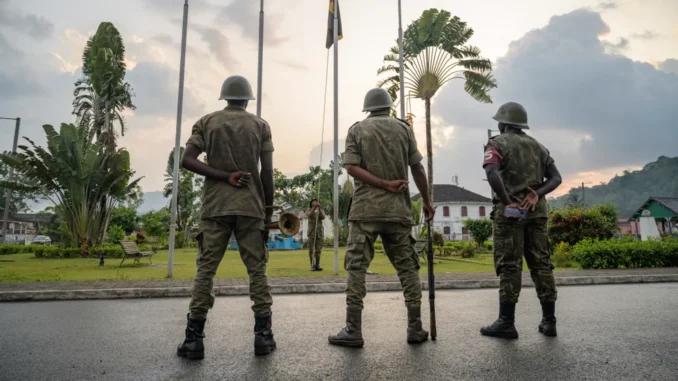 The Chief of Staff of the Armed Forces of Sao Tome denounces "acts of treason" and condemns the "horrible facts" surrounding the death of four detainees after an attack on a military barracks.
"I have just handed his Excellency the President of the Republic and supreme commander [of the Armed Forces] my resignation," Brigadier General Olinto Paquete announced at a press conference on Tursday.
Quoting the resignation request that he sent to Carlos Vila Nova, the person in charge stated that in the face of the assault on military headquarters by "a small group of individuals in plain clothes, with the help of Army soldiers," which occurred Friday last week, the Armed Forces' reaction "was prompt but slow."
"Our objective was the preservation of life, which during the operation was achieved. "The subsequent inexplicable, horrific events compromised all the good that was done," he said.
"It seems to me that it was an order, because it followed a carefully established plan, culminating with the publication of images on Wednesday at 18:00 [local time] of things that I didn't know about because they informed me with false data," he said.
The brigadier acknowledged having given "false information to the nation" about the deaths of the four detainees, which he had earlier justified with injuries caused by an explosion in the case of the three assailants and, in the case of the alleged mastermind of the attack, Arlécio Costa, who was arrested after the attack by the military, for having "thrown himself from the vehicle."
"I apologize. My education and my training do not allow me to accept such an atrocity and acts of treason that harm the homeland," he also said, thus justifying his resignation, which comes just hours after a meeting called by the head of state with the top ranks of the army and with the prime minister, Patrice Trovoada, and the minister of defense and internal order, Jorge Amado.