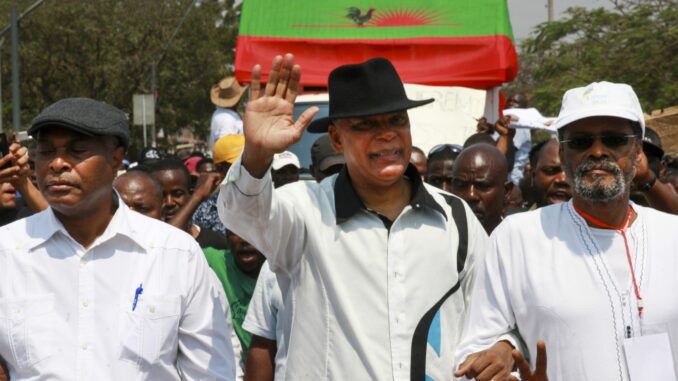 The president of UNITA, the largest Angolan opposition party, accused last week-end the international community of turning a blind eye to human rights and democracy to defend its interests in Angola.
"What happened in Angola was not only a vote at the ballot boxes, there was manipulation, there were also international interests here, which often silence the voices of those countries that say: for my country democracy, for there, for the others, let them manage, as long as they give me the mines, give me the oil, give me what I want, I close my eyes to human rights," said Adalberto Costa Júnior at a rally to celebrate the 57th anniversary of the National Union for the Total Independence of Angola (UNITA).
The UNITA leader presided, in the municipality of Viana, the central act of commemoration of the 57th anniversary of the party's foundation, which took place under the slogan "UNITA – 57 for an Independent Democratic and Developed Angola".
Adalberto Costa Júnior asked the international community to "help a little more", thanking the role of many ambassadors, "who have gained courage in recent times".
Adalberto Costa Júnior expressed his concern about the young people who are leaving the country in search of better living conditions abroad.
The president of UNITA considered that the simplified contracting model, which "has become the norm," is "corruption, high corruption. The most active way of doing corruption is the non-existence of public tenders, and from the elections to today is the practice of everyday", said Adalberto Costa Júnior.
The leader of the second largest political party in Angola referred that there is money "to avoid extreme poverty", denouncing the cases of suicides in provinces of the country "where many fathers commit suicide and kill their children because of extreme hunger, because they can't stand the suffering, the pain in their bellies, to see the suffering of their children and they hang their children and commit suicide, in provinces of extreme wealth".
"I conclude by saying, count on us, we are ready to serve you, and UNITA, this instrument that symbolically is here today celebrating its 57th anniversary, is well and commends itself," he stressed.