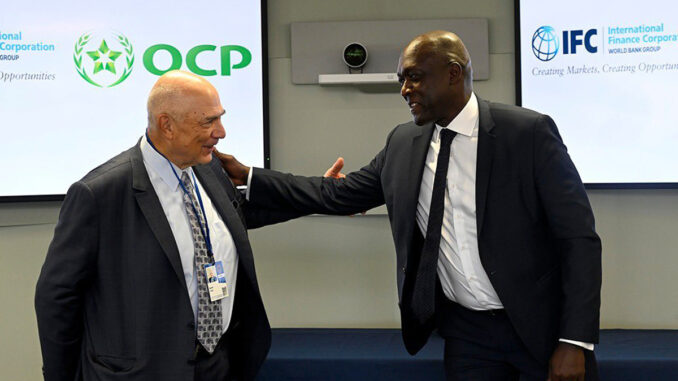 The International Finance Corporation has agreed to provide Morocco's state-owned OCP phosphate Group a €100 million green loan for building four solar plants to reduce the company's carbon footprint and help green its fertilizer production.
The agreement was announced Wednesday during the International Monetary Fund-World Bank Group Spring Meetings in Washington D.C. The solar plants will be built in the mining towns of Benguerir and Khouribga, home to Morocco's largest phosphate reserves. The plants will have a combined capacity of 202-Megawatt peak (MWp) and will supply clean energy directly to OCP's operations.
The project is part of OCP's $13 billion Green Investment Program, which aims to increase its green fertilizer production and transition its operations to green energy by 2030 and allow OCP to replace its electricity consumption with green energy, avoiding about 285,000 tons of carbon dioxide equivalent (tCO2e) annually.
The solar power plants will provide a cost-effective source of energy, contributing to OCP Group's overall competitiveness by increasing production of low-carbon fertilizers.
"Investing in reliable and competitive renewable energy is a key pillar of OCP's investment plan towards our ambitious targets for sustainable green fertilizers," said OCP Group Chairman Mostafa Terrab.
For his part, IFC Managing Director Makhtar Diop said: "We are proud to support OCP's efforts to reduce emissions and green fertilizer production in Africa".