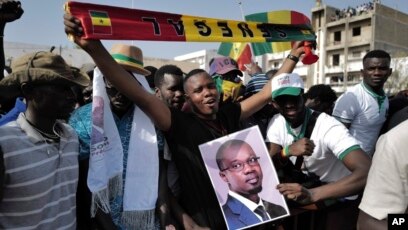 As a cautious calm returned to Senegal's capital Dakar after days of clashes that saw at least 16 people killed, the West African country has announced a temporarily closure of its consulates abroad following attacks on several diplomatic missions around the world, including in Bordeaux, Milan, New York, and Paris.
Dozens of emotional friends and relatives gathered to pray around 26-year-old student Elhaji Cisse outside a mosque near his house on Monday (5 June). The student was short in the shoulder as he was walking home three days earlier. He was one of at least 16 people killed in the violence that engulfed Dakar and other major cities in Senegal for three days after security forces clashed with supporters of opposition leader Ousmane Sonko. The leading opposition figure was convicted of corrupting youth and sentenced to two years in prison but acquitted on charges of raping a woman who worked at a massage parlor and making death threats against her.
According to observers, Senegal is now facing the worst political crisis the nation has seen since 1988. And its repercussions are felt around the world, as Senegal announced the closure of several of its diplomatic missions. "This precautionary measure was taken following a series of aggressions… that caused serious damage," Senegal's Foreign Ministry said in a statement. During the assault on the consulate in Milan on Monday, around 40 Sonko supporters gathered outside the building with flags and anti-government signs. They reportedly broke in and ransacked the premises, attacked the consul general and started a fire before police intervened. The general consulate in Milan was particularly hard-hit, with passport making machines and identity cards destroyed, the ministry said. In Paris, a small group of protesters reportedly threw flour at a Senegal embassy car and its passengers.