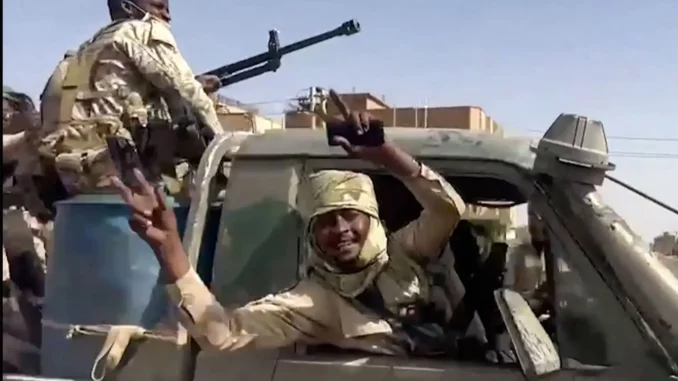 Gunfire and clashes resumed Sunday in Khartoum (the Sudanese capital), witnesses said, after the end of a 24-hour ceasefire that had given civilians a rare breathing space since two months.
Heavy artillery fire was heard Sunday by witnesses in Khartoum and its twin city Omdurman to the north. Fighting also erupted on Al-Hawa Street (a major artery in the south of the capital), other inhabitants said. The Friday truce enabled civilians trapped in Khartoum to stock up on food and other essential supplies. Clashes had continued in the vicinity of the country's largest military complex, despite a 24-hour truce agreed last Friday.
The truce was to apply "throughout Sudan from (Saturday) June 10 at 06:00 Khartoum time" (04:00 GMT), the Saudi Foreign Ministry said in a statement. This is the umpteenth truce, after many others that have hardly been respected, in the war that broke out on April 15 between the army, led by General Abdelfattah al-Burhane, and the paramilitary Rapid Support Forces (RSF) of General Mohamed Hamdane Daglo.
The parties pledged to cease violence for the duration of the truce and to allow "the arrival of humanitarian aid throughout the country", according to the statement. The General Command of the Armed Forces, however, reserves the "right to respond to any violations the rebels may commit" during the truce, it said on Facebook. The war has already claimed more than 1,800 lives, according to ACLED, an organization specializing in information gathering in conflict zones, and two million displaced persons and refugees, according to the UN. In the combat zones, which are mainly in the capital Khartoum and the vast Darfur region (west), NGOs are constantly warning of the deteriorating humanitarian situation.
"In Khartoum, we estimate that only 20% of health facilities are still functioning", lamented the head of the International Committee of the Red Cross (ICRC), Alfonso Verdu Perez, at a press conference in Geneva. "In recent weeks, we have managed to deliver surgical equipment to ten hospitals" in the capital, "but the needs are immense and much remains to be done", he added, pointing to serious shortages of water, electricity, food and medical supplies.