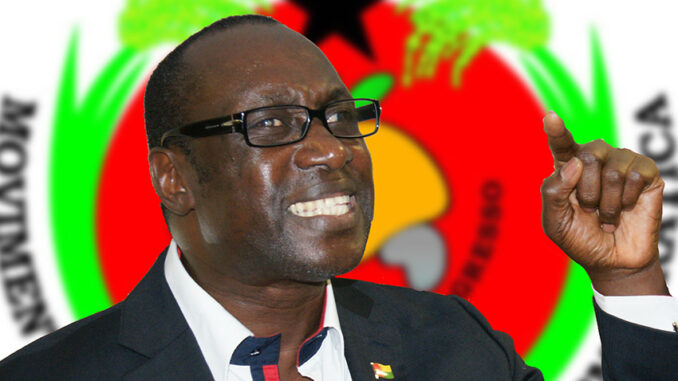 The national coordinator of the Movement for Democratic Change (Madem-G15) in Guinea-Bissau, Braima Camará, on Sunday withdrew his decision to leave the leadership of the party, according to a resolution of the National Council of that party formation.
Braima Camará retreated from his decision to resign from the post, after the National Council approved several motions of political confidence proposed by the regional coordinators and secretaries of the party and political organizations of Madem-G15, says the resolution of the National Council released to the press.
The national coordinator of Guinea-Bissau's Movement of Democratic Alternation (Madem-G15), Braima Camará, resigned on Saturday after the party's defeat in the legislative elections last 04.
"Before this body, I present the resignation of my mandate," Braima Camará said while speaking before the Madem-G15 National Council, meeting to analyze the results of the legislative elections, in which the party won 29 of the 102 seats in the Guinean parliament.
Madem-G15 governed the country in coalition with the Social Renewal Party and the Assembly of the United People — Democratic Party of Guinea-Bissau.
Braima Camará considered that he is "solely responsible for the electoral defeat" and that there are "no scapegoats, no two guilty parties." "Madem lost the elections. I'm not going to court because of the results," Braima Camará said, stressing that politics must be done with nobility and that he "will never be a prime minister cooked in an office."
The legislative election results gave victory to the PAI – Terra Ranka coalition with 54 of the 102 members of parliament, thus winning an absolute majority.
Madem-G15 won 29 deputies in the People's National Assembly, two seats more than in 2019.
The Social Renewal Party (PRS) got 12 deputies, a big drop from the 2019 legislatures, when it won 21 seats, while the Guinean Workers' Party (PTG), created in late 2021, and led by Botche Candé, got six deputies in its electoral debut. The United People's Assembly — Democratic Party of Guinea-Bissau, led by outgoing Prime Minister Nuno Gomes Nabiam, obtained only one deputy, when it elected five deputies in 2019.