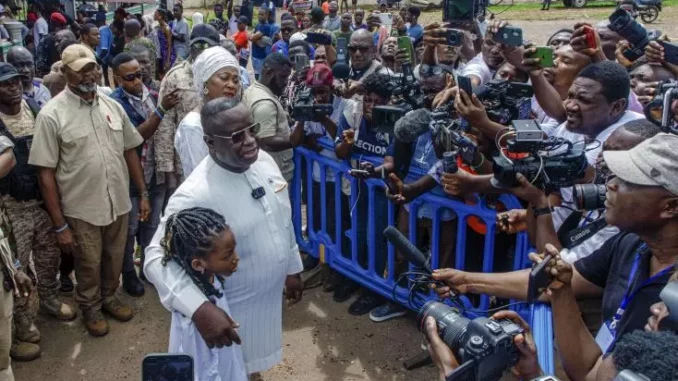 Incumbent President Julius Maada Bio is leading the presidential election in Sierra Leone with 55.86% of the vote after 60% counting, according to partial figures provided by the Electoral commission on Monday.
If trends continue, Mr. Bio would be re-elected for a second term, since a candidate is elected in the first round if he or she obtains more than 55% of the vote. With 1,067,666 votes, J. Bio is ahead of Samura Kamara, who received 793,751 votes, or 41.53% of the vote, according to the figures given by Mohamed Kenewui Konneh, Chairman of the Electoral Commission. The final results will be announced within 48 hours, he added.
Some 3.4 million people were called upon on Saturday to choose between 13 presidential candidates, in an election that resembled a 2018 rematch between Mr. Bio, a 59-year-old retired military officer seeking a second term, and Mr. Kamura, a 72-year-old technocrat and leader of the All People's Congress (APC).
In 2018, Mr. Bio, candidate of the Sierra Leone People's Party (SLPP), won the run-off with 51.8% of the vote. This year, Mr. Bio championed education and women's rights. He said he was focusing on agriculture to reduce his country's dependence on food imports. Mr. Kamara, Minister of Finance and then Foreign Affairs before Mr. Bio took office in 2018, said he wanted to restore confidence in national economic institutions and attract foreign investors.
On Sunday evening, security forces violently dispersed opponents at the APC party headquarters in Freetown, even though the election had been generally calm. One woman was killed in the disturbance, said the APC spokesman. Her 25-year-old son, Ibrahim Conteh, recognized his mother's body at the morgue, he said. He is demanding justice. The police have not confirmed the death.