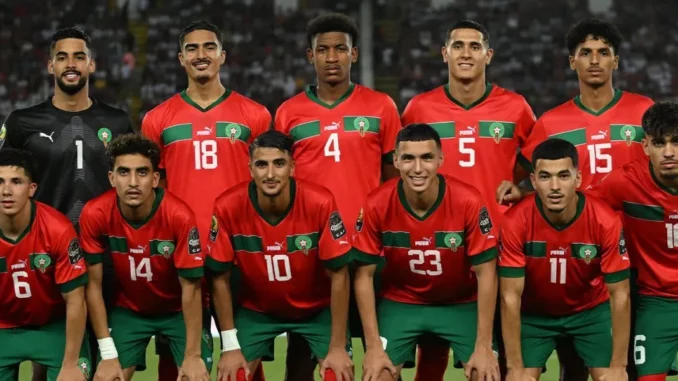 Morocco won on Saturday the U-23 Africa Cup of Nations after beating Egypt 2-1 in Rabat's Prince Moulay Abdellah Stadium.
Immediately after the end of the game and the coronation of the Atlas Lion Cubs, King Mohammed VI sent a message of congratulations to the members of the team, wherein he affirmed that he has followed "with immense joy and pride" the victory of the U-23 national team in the final of AFCON 2023, and its qualification for the Olympic Games, Paris 2024.
On the occasion of this new continental achievement, the King warmly congratulated the members of the team on this title, the first of its kind, which once again confirms the strong presence of national football teams and clubs at continental and international levels. He also paid tribute to the efforts of all those who contributed to this African feat, in particular the players, coaches, technical, medical and administrative staff, as well as the President and Directors of the Royal Moroccan Football Federation.
Likewise, the Sovereign expressed his pride in the good performance of the Atlas Lion Cubs during this championship, as well as in their great technical qualities and strong spirit of patriotism, which earned them the admiration and esteem of the passionate public who followed the various phases of this continental football event hosted by the Kingdom of Morocco, known for its warm welcome, great hospitality and good organization.
In this message, the King called on the Atlas Lion Cubs to maintain the same spirit of perseverance and seriousness in the forthcoming competitions.
During the game played Saturday evening, the Egyptians opened the scoring in the 10th minute thanks to Mahmoud Saber (10th), before Yanis Begraoui equalized in the 37th minute. In extra time, Oussama Targhaline scored the winner for Morocco (105+3).
Morocco and Egypt validated their tickets for the next Olympic Games (Paris-2024), following their semi-final victories over Mali and Guinea respectively.