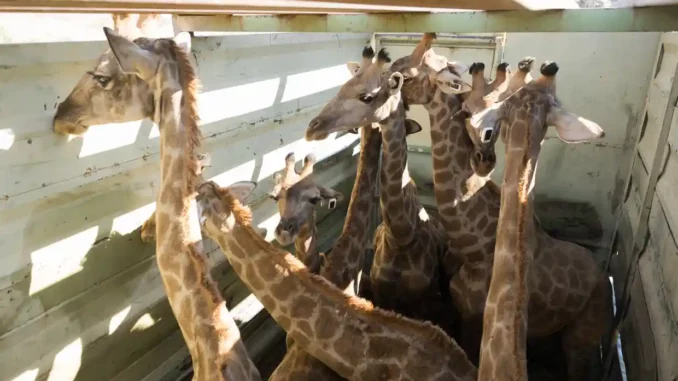 Fourteen giraffes arrived in Angola last week from neighboring Namibia, announced by an organization campaigning to reintroduce the species after decades of depletion due to civil war.
The graceful animals have taken up residence in Iona, one of Angola's largest parks, covering an area of 15,200 km², close to the border between the two southern African countries.
This transfer is the first of a series to "restore and enrich the park's biodiversity", according to African Parks, an NGO with which Prince Harry is associated and which manages around twenty parks on the continent.
According to the International Union for Conservation of Nature (IUCN), giraffes were extinct in Angola at the end of the 1990s, decimated by poaching, until their gradual reintroduction to the south of the country in 2015. The Angolan giraffe "disappeared locally before the 1980s due to indiscriminate poaching during the civil war", according to the Namibian Journal of Environment, a leading scientific publication.
At the end of the civil war in 2002, Angola renewed its commitment to wildlife conservation. Stephanie Fennessy, co-founder of the Namibia-based Giraffe Conservation Foundation, welcomed the transfer, saying that by reintroducing the spotted animal with the endless neck to "its historic range (…) we are ensuring its long-term survival and helping to restore the ecological balance".
The Angolan government hailed this as a "remarkable milestone". The former Portuguese colony endured almost three decades of civil war, between its independence in 1975 and 2002, at the cost of some 500,000 deaths.