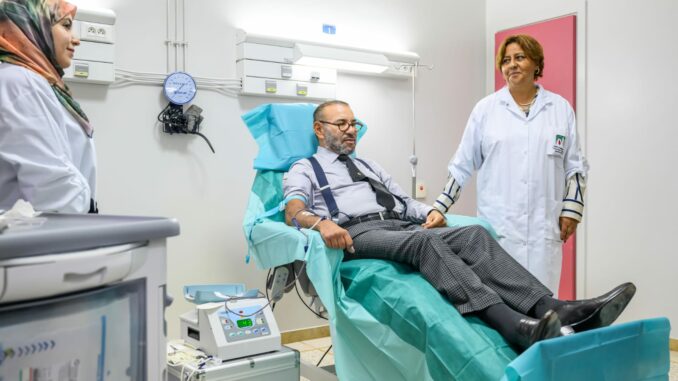 King Mohammed VI personally visited the Mohammed VI University Hospital in Marrakech to inquire about the condition of the earthquake victims. This visit underscores his commitment to the welfare of his people and his desire to see firsthand the impact of the earthquake on those affected.
Morocco was hit on Friday September 8 by a devastating earthquake that caused heavy human and material losses in several regions of the Kingdom.
The King's visit to the hospital and his actions in response to the earthquake demonstrate his deep concern for the well-being of the people affected by this natural disaster.
During his visit, the King went to the resuscitation and hospitalization departments for earthquake victims. This allowed him to receive updates on the condition of the injured and the medical care they were receiving. It also showcased his direct engagement with the response efforts.
King Mohammed VI's presence and inquiries about the well-being of the injured provide moral support to both the victims and their families.
The Sovereign also donated blood, a gesture demonstrating his compassion and solidarity with those affected by the earthquake.
The King's visit aligns with various humanitarian initiatives and measures that were undertaken to rescue, assist, and support those impacted by the earthquake, in accordance with his high royal instructions. This highlights the importance of coordinated efforts in the face of natural disasters.
Some 2,171 injured people were admitted to various hospitals in the Marrakech-Safi region, including 484 with major injuries and 1,570 with minor injuries. 248 people are still hospitalized.
The provided data offer an overview of the number of injured individuals and their varying degrees of injuries, emphasizing the scale of the disaster's impact on the region.
The visit underscores the close connection between the King and the Moroccan people during times of crisis. It highlights his leadership in managing such crises and fostering a sense of unity and determination among the population.
Overall, King Mohammed VI's actions reflect his commitment to the well-being of the citizens and his readiness to provide support and leadership during challenging times like this earthquake.