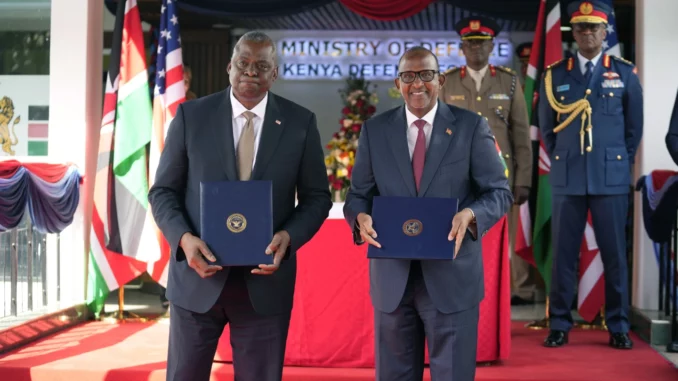 The United States and Kenya on Monday September 25 have signed a defence agreement that will see the East African nation get resources and support for security deployments as it has volunteered to lead an international Mission to violence-plagued Haiti.
US Defense Secretary Lloyd Austin and Kenya's Defence Minister Aden Duale signed the accord on Monday September 25 at a meeting in the Kenyan capital, Nairobi, guiding the countries' defence relations for the next five years.
"Signing the framework for defence cooperation between our two countries today reinforces the importance of our strategic partnership with Kenya," Austin said following the meeting, according to a readout by the Pentagon.
The US defence chief underscored Kenya's role in the fight against al-Shabab, an armed group affiliated with al-Qaeda that is active in East Africa. He also thanked the Kenyan government for volunteering to take the leadership of a proposed, multinational force to Haiti, which has been struggling to respond to months of escalating gang violence.
Gangs control most of the Haitian capital, Port-au-Prince, and Haitians face a barrage of attacks, including kidnappings for ransom and sexual violence. Thousands of people have been displaced from their homes. In October of last year, Haiti's de facto leader, Prime Minister Ariel Henry, called on the international community to help set up a "specialized armed force" to quell the violence.
The request for an international mission to Haiti enjoyed the backing of the US and the United Nations, but a deployment has been stalled for months because no country had agreed to lead such a mission to the country. Kenya has pledged to send 1,000 security officers to Haiti to combat gang violence.
On Monday September 25, Duale said his country was ready to deploy to Haiti and cited Kenya's "very long history of global peacekeeping" in Kosovo, neighboring Somalia and Congo.