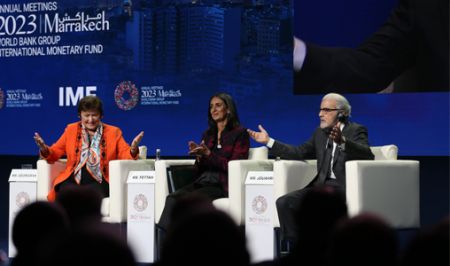 The preparatory works of the World Bank and International Monetary Fund Annual Meeting opened this Monday in Marrakesh with the launch of a book titled: "Morocco's quest for stronger and inclusive growth."
Prepared by the IMF, the book highlights the economic progress made by Morocco over the last few decades and discusses the challenges the country is facing and its structural reforms engaged to speed up socioeconomic development, by making it more inclusive and resilient to external shocks, setting the example for other emerging market and developing economies to follow.
Speaking during the book presentation ceremony, IMF Director Kristalina Georgieva said this book explores the factors underlying Morocco's resilience. The book points to the numerous reforms Morocco began decades ago, including measures to open the country to international trade, invest in key infrastructure, reduce subsidies, strengthen the independence of the central bank, build a strong financial supervisory framework, and modernize governance in both the public and private sectors, she added.
Morocco's success in these areas suggests that these reforms are essential for countries in search of macroeconomic stability as a precondition for growth, underlined the IMF chief, noting that the Kingdom is a gateway to Africa, Europe, and the Middle East.
The Marrakech 2023 Annual Meetings provide an opportunity to recognize Morocco's strong commitment to economic reforms and stability and to promote the country as an example of how to build trade and investment links in a fragmenting world, she said.
For his part, Morocco's Prime Minister Aziz Akhannouch said the country has made over the past twenty years important reforms that enhanced the Kingdom's resilience and macroeconomic balances.
The new IMF book on Morocco shows the country's determination to accelerate its march towards shared progress and prosperity under the leadership of King Mohammed VI.
The WB-IMF Annual Meetings are bringing together 14,000 participants including central bankers, ministers of finance and development, private sector executives, civil society, media and academics.
They are gathering in Marrakesh to discuss issues of global concern, including the world economic outlook, global financial stability, poverty eradication, inclusive economic growth and job creation, climate change, and others.