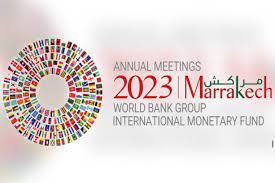 The Annual Meetings of the World Bank (WB) and the International Monetary Fund (IMF) in Marrakesh will highlight the "leading" role that Morocco plays in favor of development in Africa, underlined the president of the Global Policy Institute (GPI), Paolo Von Schirach.
Thanks to innovative policies, Morocco is engaging in an investment dynamic on the continent, particularly through its financial institutions, the president of the Washington DC-based think tank told MAP, noting that the Kingdom places its multi-sectoral expertise at the service of several African countries.
Being one of the largest producers and exporters of fertilizers in the world, Morocco also provides advice to countries on the continent wishing to optimize their agricultural productivity, he stressed.
The American analyst also highlighted Morocco's role in promoting skills and developing the capacities of students from sub-Saharan Africa, noting that many young people from the continent join Moroccan universities to acquire advanced training.
"Morocco is able to lead the African continent constructively into the future," he said, noting that the decision of the two international financial institutions to hold their annual meetings in Marrakech, for the first time in Africa in 50 years, underlines the role played by the Kingdom regarding its strategic depth and its natural extension.
The president of the Global Policy Institute further underlined that Morocco presents the model of an emerging forward-looking economy, thanks to pioneering policies, and recalled the multifaceted agreements which bind the Kingdom to several groupings and countries such as the European Union and the United States. Morocco is an economy which "adapts and takes advantage of the opportunities offered by the economic world."
The Marrakech Annual Meetings convene from October 9 to 15, with the participation of approximately 12,000 participants from more than 180 member states of the IMF and the World Bank, including leaders of the public sector (central banks, ministries of finance and development, MPs) and from the private sector, as well as civil society organizations, youth, media and academic researchers.
The Annual meetings features several panels on topical issues, including climate change, and the digital revolution, in an uncertain international context marked by crises like the Ukraine-Russia war and the post-pandemic upheavals.
The debates will also revolve around the need to rethink multilateralism and highlight global political and economic fragmentation.