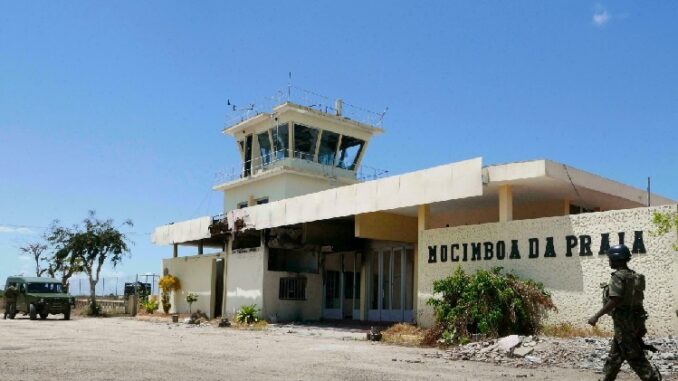 Filipe Nyusi inaugurated the airfield and port of Mocímboa da Praia, Cabo Delgado, following reconstruction after terrorist attacks. Vital infrastructure has been restored in the midst of the crisis in the region. Millions of euros have been invested.
The Mozambican Head of State, Filipe Nyusi, on Monday October 9 inaugurated the airfield and port of Mocímboa da Praia, in Cabo Delgado province, infrastructures destroyed in the terrorist attacks and which have been rehabilitated in recent months.
On the night of August 4, 2020, the armed groups that have been carrying out attacks in Cabo Delgado since 2017 invaded Mocímboa da Praia, taking over the airfield and port infrastructures, and the clashes with the Defense and Security Forces left an unknown number of dead, including members of the maritime force, in addition to several destroyed infrastructures.
Work began on rehabilitating the infrastructure after the security situation stabilized, with the arrival of foreign forces in July 2021, namely from Rwanda and the Southern African Development Community.
For the port of Mocímboa da Praia, at least 7 million dollars (6.6 million euros) have been invested in the new mooring quay and the completion of the channel signaling system, but the rehabilitation, which will continue, has a total budget of 30 million dollars (28.4 million euros), the administrator of the infrastructure, Helenio Turzão, declared.
The rehabilitation work at the airfield is budgeted at around 15 million meticais (222.1 thousand euros), according to data from the Mozambique Airports administration.
After months in the hands of rebels, Mocímboa da Praia was looted and almost all public and private infrastructure was destroyed, as well as the power, water, communications and hospital systems.