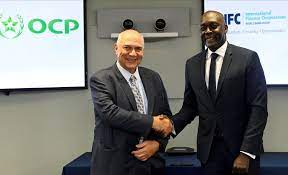 The OCP Group, the world's largest phosphate-based fertilizer producer, and the International Finance Corporation (IFC), launched an agri-finance platform meant to mobilize $800 million of blended capital by 2030 to develop and support sustainable food production and distribution systems in Africa.
The new platform is expected to contribute to skills development, job creation, and food security, according to a joint statement by OCP and IFC.
By offering access to financing and skills training, the platform intends to enhance 30 agricultural value chains across Africa through 60 agri-finance operations. These operations will encompass various crop types and address challenges that hinder the sector's growth and resilience, added the same source.
The targeted investment strategy for this new agricultural financing platform will promote the sustainable growth of the sector and enhance food security across the continent. The release noted that agriculture, vital to the African economy, accounts for around 20% of the continent's GDP and employs over 60% of its workforce.
"The partnership between IFC and OCP is working to unlock the full potential of Africa to feed not only itself but the world," said Mostafa Terrab, Chairman and CEO of the OCP Group, as quoted in the release.
The platform has already partnered with Bank of Africa to improve access to fertilizers and other inputs for African farmers and agri-processors. The release added that it has also designed new projects in Côte d'Ivoire, Cameroon, Gabon and other countries.