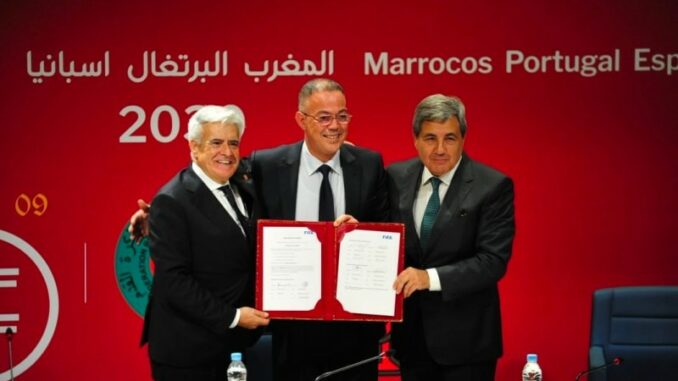 The president of the Moroccan, Spanish, and Portuguese football federations gathered in Rabat on Saturday to sign the letter of intentions for their hosting of the 2030 World Cup.
President of the Royal Moroccan Football Federation (FRMF) Fouzi Lekjaa, President of the Spanish Football Federation (RFEF) Pedro Rocha, and President of the Portuguese Football Federation Fernando Soares Gomes da Silva attended the signing ceremony.
Speaking at the event, Lekjaa said the tournament will be "exceptionally historic" and that the three countries are aiming to organize the best edition of the World Cup.
He additionally highlighted the historic nature of the competition as it will bring together two different continents and three cultures.
The Moroccan official added that the joint candidature of the three countries will be immortalized in football history in "golden letters" as it brings together three countries with "ties in the past, the present, and the future."
The sentiment was echoed by da Silva, who described the signing as "historic" and recalled that the 2030 World Cup will also mark the 100th anniversary of the global competition.
Rocha also said the joint Morocco-Portugal-Spain bid to organize the World Cup is evidence of "unity and cooperation" as it brings different cultures together to organize a successful event.
The three countries were awarded the hosting rights by FIFA earlier this month, while Argentina, Paraguay, and Uruguay are set to host the tournament's three opening games. This means the tournament will be the first to take place across three continents.