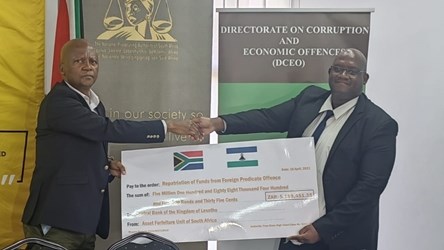 The National Prosecuting Authority South Africa, has handed over to the Directorate on Corruption and Economic Offences (DCEO) money and assets that were recovered in relation to a money laundering case which happened in Lesotho. This forms part of the R31 million fraudulently deposited into Absa, Capitec, FNB and Standard Bank accounts to defraud the Lesotho government.
This matter took place in Bloemfontein, South Africa on Friday November 3.
Speaking at this event, Regional Head of Assets Forfeiture Unit at the NPA Advocate Thato Ntimutse said that this event shows that networking, corporation and law enforcement have been an effective trait towards the achievement of this exercise.
He also advised the government of Lesotho to invest more in the law enforcement agencies towards combating crime beyond the borders. It has been previously reported that officials from the Ministry of Finance in Lesotho had allegedly extracted R50 million and deposited R31 million into various South African bank accounts. The neighboring country received an R18 million cheque last year. This year the South African Police in collaboration with the Directorate on Corruption and Economic Offences (DCEO) in Lesotho recovered R5,1 million, two flats in Bloemfontein suburbs and three vehicles, which will be transported to Lesotho. This follows South African Police applications brought forward to the Bloemfontein High Court in the past year.
"There will be no hiding place for criminals and criminality in our respective due restrictions. There should be no safe haven for purporting games in our due restrictions, including processes of corruption and other serious offences." Declared said (DCEO) Director General, Advocate Knorx Molelle.