The 'Father of the Congolese Democracy' Dies in Belgium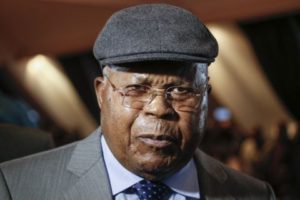 By Emmanuel Vitus Agbenonwossi, Accra-Ghana
Congo's veteran opposition leader Etienne Tshisekedi passed away Wednesday in Brussels at 84.
Tshisekedi, who pushed for democratic reforms for decades in the mineral-rich Central African nation died after he went to Brussels last week for a medical check-up.
Tshisekedi had been in Kinshasa since mid-last year and participated in the country's national dialogue to avert a crisis due to the election stalemate.
His party, the Union for Democracy and Social Progress (UDPS) — the oldest and traditionally most vociferous opposition party he founded in 1982 — confirmed his death in a statement from Kinshasa.
"The UDPS wishes to inform the national as well as the international public of the death of its President Mr Etienne Tshisekedi Wa Mulumba who died this Wednesday February 1, 2017 at the St. Elisabeth Hospital in Brussels," the statement said.
Etienne — rarely seen without his flat cap — before his death was in commands authority in the party for his long career in opposition including to Mobutu, when he earned the Sphinx nickname for not speaking much but causing a lot of trouble when he did.
Congolese mourn the 'Sphinx of Limete'
Following the news on Wednesday night, members of the opposition took to social media to mourn their leader they nicknamed "Tshitshi".
Opposition leader and member of the Rassemblement opposition coalition launched by Tshisekedi last year, Moise Katumbi said he was "deeply saddened" by the death of the "Father of the Congolese democracy."
"We have just lost one of the most iconic figures of the history of our country. A deep sense of sadness has overwhelmed the heart of all Congolese."
"Until his [Tshisekedi] last breath, the father of our democracy fought dictatorship that is rampant in our country, fought for the first democratic changeover in 2016 and stood up against the injustice of which his compatriots are victim. He made a gift of his life for the interest of the people, and will never be thanked enough for that," Moise Katumbi said.
Honoring the "The Sphinx of Limete" – a reference to Tshisekedi's birthplace – Government figures, paid tributes with Aubin Minaku, general secretary of the presidential majority, and president of the National Assembly, saying: "A Baobab (tree) has just fallen. Étienne Tshisekedi remains an icon. May his soul rest in peace."
"The cathedral of the resistance is gone", commented former DRC finance minister, Freddy Matungulu Mbuyamu.
His colleague, former transports and communications minister, Joseph Olenghankoy, said he was "distraught, but we will achieve his dream of a state of law in the DRC".
A man who fought autocracy his entire life
Despite serving as the country's most iconic opposition figure, he never managed to ascend to Congo's highest office.
He was named prime minister four times in the 1990s as Mobutu contended with pro-democratic currents in the country, but Tshisekedi never lasted more than a few months as he repeatedly clashed with the autocrat.
He went into exile in 2000 after repeated clashes with the government of Joseph Kabila's father, Laurent, who became president after Mobutu's departure.
Tshisekedi once declared himself president after the 2011 election, which was marred by allegations of vote rigging by the ruling party.
Recently he accused Kabila of "treason" for not stepping down at the end of his mandate.
He was poised to take the top post in a transitional council agreed in December 2016 under a deal to pave the way for the first peaceful transition of power in the country.
Following decades of conflict and misrule, Congo is trying to stamp out remaining pockets of rebellion and build on relative stability that has helped it to lure investors and rival Zambia as Africa's top copper producer.
Posted by
Khalid Al Mouahidi
on February 2, 2017. Filed under
Lifestyle
. You can follow any responses to this entry through the
RSS 2.0
. You can skip to the end and leave a response. Pinging is currently not allowed.