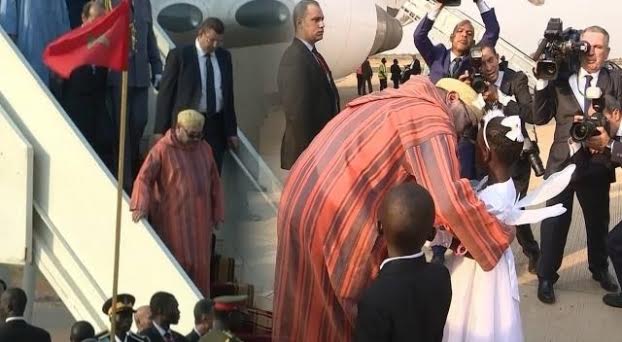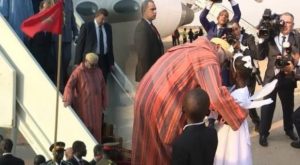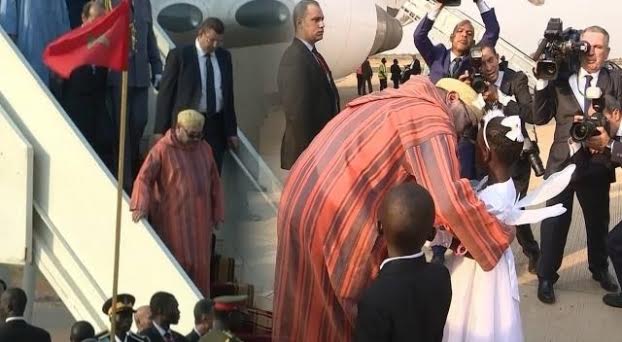 After his historic visit in Addis Ababa that was crowned by the official integration of Morocco as a full-fledged member of the African Union, King Mohammed VI flew on Wednesday to Juba on an official visit to South Sudan.
During the visit, taking place under the sign of solidarity and inter-African action, King Mohammed VI will co-chair with President Salva Kiir the signing ceremony of several cooperation agreements.
These agreements will translate Morocco's commitment to the development of the continent, as it was stressed by the King in the landmark speech he delivered on Tuesday in Addis Ababa before the 28th summit of the African Union.
"…My country has opted to share and transfer its know-how; in concrete terms, it is offering to build a safe, solidarity-based future…We enthusiastically invite African nations to join our country's dynamism and to give new impetus to the whole of our continent," King Mohammed VI pointed out in his speech.
"This is the path to solidarity, peace and union chosen by my country. We reaffirm our commitment to the development and prosperity of African citizens," insisted the King who is confident that building more peaceful bilateral and multilateral relations helps create an environment conducive to development and growth.
The Moroccan ruler, on each of the 46 visits he paid to 25 African countries, since coming to power in 1999, has translated his calls for inter-African cooperation and solidarity into concrete actions, through the signing of numerous agreements and the launch of many social development projects. These projects do not benefit the country where they are implemented only. They also create wealth for neighboring countries and populations, and benefit the continent as a whole.
Part of Morocco's vision of south-south cooperation in the continent that is underpinned by solidarity and humanism, and in a humanitarian gesture reflective of the King's care to assist the South Sudanese people, a Moroccan multi-purpose military field hospital was set up in Juba recently.
The facility is operated by 20 physicians specializing in pediatrics, internal medicine, surgery, cardiology, traumatology, dentistry, ophthalmology and ENT medicine.
Besides, ahead of the Sovereign's visit to Juba, a Moroccan delegation including experts in the fields of construction, urban planning and architecture travelled to Juba to examine South Sudan's request to benefit from Morocco's expertise in their project to build a new administrative capital.