UN & AU, a shared determination to strengthen conflict settlement mechanisms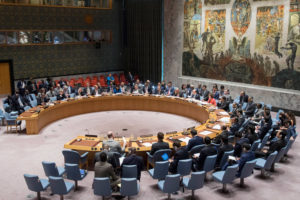 The United Nations Secretary General António Guterres pointed out Wednesday that the UN and the African Union have a shared determination to strengthen mechanisms to defuse conflicts before they escalate, and to manage them effectively when they occur.
Addressing an open debate of the Security Council in New York on the strengthened collaboration between the UN and the AU, Guterres underlined that the two organizations' shared objective is "to work closely on the basis of the principles of mutual respect and comparative advantage in all stages of the conflict cycle and in a systematic, predictable and strategic manner".
Guterres highlighted a landmark framework signed between the UN and the AU in April to strengthen partnership between the two organizations on peace and security pillars, as well as the two organizations' commitment to further institutionalize and build on the partnership.
The Joint UN-AU Framework for Enhanced Partnership in Peace and Security includes four key action areas: preventing and mediating conflict and sustaining peace; responding to conflict; addressing the root causes; and the continuous review and enhancement of the partnership, the UN information center said in a press release.
The UN Secretary-General also stressed that "the international community needs to change the narrative about Africa and to establish a higher platform of cooperation that recognizes its enormous potential and promise."
Guterres, as well as Smail Chergui, the Commissioner for Peace and Security of the AU, who also addressed the Security Council, raised the issue of financing peace operations in Africa, insisting on financial resources, equipment and technology
Posted by
Geraldine Boechat
on July 20, 2017. Filed under
News
,
Zoom
. You can follow any responses to this entry through the
RSS 2.0
. You can skip to the end and leave a response. Pinging is currently not allowed.