Kenya: police killed at least 33 people during post-election violence –Rights groups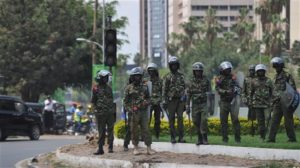 Two rights organizations, Human Rights Watch and Amnesty International, on Monday, accused Kenyan police of killing about 33 protesters and injuring hundreds during the protest movements called for by political parties following the August 8 general elections in the East African nation.
The two Rights watchdogs issued a 37-page report, detailing the excessive use of force by police, and in some cases other security agents, against protesters and residents in some of the opposition's strongholds in the capital city, Nairobi.
Kenyan police spokesperson, Charles Owino, who disputed the findings, said only looters and thugs were killed or injured in the violence.
The electoral commission of Kenya had declared outgoing President Uhuru Kenyatta the winner of the Aug. 8 vote, with 54 percent of the ballots, to 44 percent for his challenger, the former Prime Minister Raila Odinga — a margin of about 1.4 million votes.
However, the Kenyan Supreme Court made history by nullifying the election of the incumbent President Uhuru Kenyatta, and ordered a new one, in response to complaints about voting irregularities.
Last week, Odinga, 72, said he would not participate in a redo of the presidential election.
When announcing his withdrawal from the race, Odinga said it was best for him to pull out, "considering the interests of the people of Kenya, the region and the world at large."
Posted by
Steven Addamah
on October 17, 2017. Filed under
News
. You can follow any responses to this entry through the
RSS 2.0
. You can skip to the end and leave a response. Pinging is currently not allowed.