Morocco's car manufacturing platform strengthened by new comer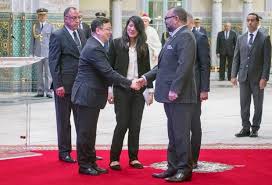 Morocco, as a car manufacturing platform, has been strengthened by a new comer, the Chinese world leader in electric car making, BYD group.
Following suit to French automakers Renault and Peugeot, BYD group decided to establish an electric car factory near Tangier, a decision that falls in line with the strong resolve of King Mohammed VI to revitalize and modernize the Kingdom's infrastructures and diversify its partnerships with major world players.
As a sign of the interest the Monarch grants to his country's industrialization strategy, he received Saturday at the Royal Palace in Casablanca the CEO of BYD, the Chinese billionaire Wang Chuanfu.
The Monarch later on chaired the signing ceremony of the memorandum of understanding related to the establishment of the electric car factory. The MoU also provides for the construction of three other factories for the manufacturing of electric batteries; electric buses and trucks; and electric trains.
This new project confirms Morocco's standing as a competitive platform for car production, where leading operators in high-tech sectors, such as composite materials, lighting, and connectivity, are already established, said Moroccan Minister of Industry, Moulay Hafid Elalamy on the sidelines of the ceremony.
The project will contribute to the implementation of the King's enlightened vision for the development of relations between China and African countries, he added.
CEO of the Chinese group, Wang Chuanfu, who described relations between China and Morocco as "excellent", expressed his group's satisfaction to cooperate with Morocco on this project, and to share its experience in several countries in recent years in the development of electric vehicles.
Cooperation between BYD and Morocco sets a model for other countries who seek to develop innovative energy solutions, Chuanfu said.
"We want to benefit from Morocco's geographical location, as a gateway to Europe and to the African market," he said.
The 400 business executives from across Africa and China who attended last November in Marrakesh the China-Africa Investment Forum, underscored that Morocco, thanks to its advanced infrastructure, close ties with African economies and its advanced ports and free zones, offers a platform for Chinese businesses willing to expand in Africa.
Besides, with the 55 Free Trade Agreements it concluded notably with the EU and the US, Morocco offers a gateway to Chinese companies willing to relocate, the Forum underlined at the end of its works.
This precursor project of BYD ("Build Your Dreams"), which introduces new specializations in the Kingdom, resolutely inscribes Morocco in the world dynamics seeking to develop new forms of transport, combining efficiency and respect for the environment.
Through this strategic partnership, Morocco pools efforts with a pioneering player in renewable energies and electric cars manufacturing, part of its endeavors to be a major player in sustainable development on the regional level, thanks to a voluntarist green energies strategy, spearheaded by King Mohammed VI.
Actually, Morocco plans to increase the share of renewable energies in the Moroccan energy mix by 2030 to 52%.
All BYD's production sites will be located near Tangier, in the future industrial city dubbed "Cité Mohammed VI Tangier Tech"to be carried out by the Chinese group Haite.
The site productions will cover a 50 hectare- surface area and will generate 2,500 direct jobs.