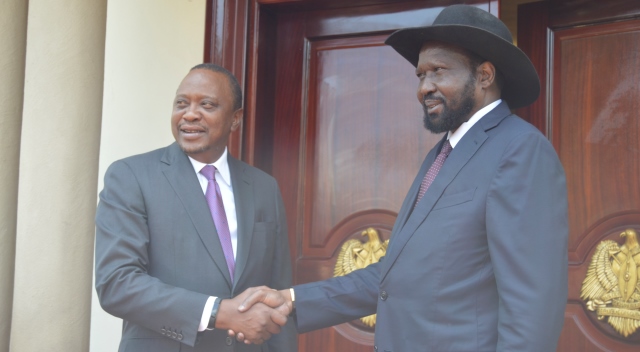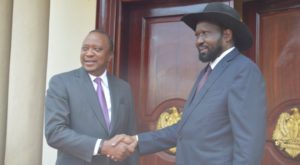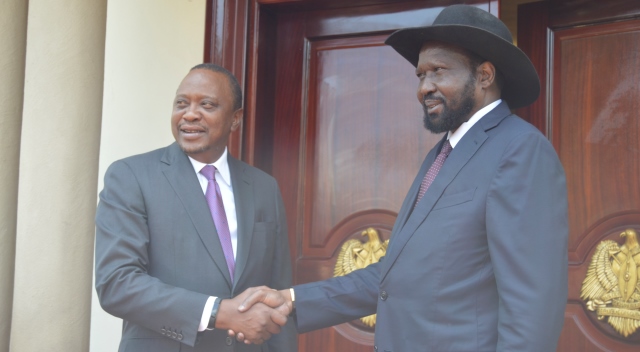 Kenyan President Uhuru Kenyatta visited Juba on Tuesday part of his mediation efforts in the South Sudan conflict and bids to accelerate peace implementation in the world's youngest nation.
"We are here to offer any kind of support, moral or otherwise, that we could give to accelerate the peace process," he said after a closed-door meeting with South Sudan's President Salva Kiir.
He stressed the need to establish peace and stability in the country to work ultimately together as a region "for the prosperity of our region and our people," he said.
He did not mention anything on the proposed deployment of 4000 strong protection forces in the country.
Five-day gun battle earlier last month left 300 people dead and forced thousands to flee to neighboring countries.
Kenyatta, who was accompanied by his foreign affairs minister, Amina Mohammed, and other dignitaries, said implementing the peace agreement topped the agenda of his talks with President Kiir.
"Kenya will support you to restore peace in the country. This is the country you fought for for decades and we will help you," the Kenyan leader told reporters in capital Juba.
As a reminder, Kiir formed a transitional government with ex-rebel leader Machar in April to stop the fighting that forced 2 million people out of their homes since late 2013. In the fighting in July, Kiir's troops drove out Machar and his forces from Juba.