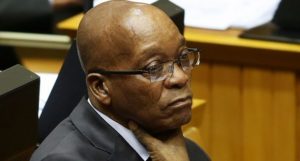 The embattled South African President Jacob Zuma has taken out a home loan to repay fraction of money he spent on luxury renovations after court ruled he must bear 'reasonable cost.'
A statement from the presidency confirmed that he had paid the amount of 7.8 million rands ($538,000) to the Reserve Bank, adding that the president took a home loan from a local bank to settle the amount.
The VBS Mutual bank which granted the president the loan describes itself as a wholly black-owned specialist finance and retail bank.
The move comes after the constitutional court ordered Zuma in March to return some of the $16 million spent on enhancing his residence at Nkandla in the KwaZulu-Natal province.
A Treasury spokeswoman said the payment had been received.
In a statement from its leader, Mmusi Maimane, the opposition DA said it was important for Zuma to provide proof to the National Assembly that he personally paid the outstanding amount.
The DA also said this was not the end of the Nkandla debacle and was "only the tip of the iceberg in a corruption-plagued saga"
The South African President has survived an impeachment attempt thanks to the support of the African National Congress. However his long-term future is still in doubt after the saga has divided the ANC, which suffered its worst-ever losses in municipal elections last month.