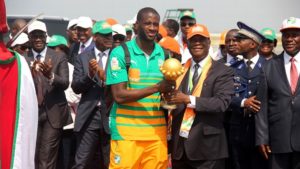 Manchester City midfielder Yaya Touré has decided to end a 14-year career playing for his national team, Elephants of Côte d'Ivoire.
The 33-year old footballer, who was expected to skipper the team in Gabon in January as he began the defense of their crown, said he has brought to an end his career with the national team.
In a statement posted on his official website, Touré wrote: "this note was probably 'the most difficult match of my life.' After 14 years at the highest level, I'm sure this is the right time for me! The fact that I am 33 now, the intensity of training and the multitude of games are not the reasons why I am making this decision".
"Football is everything to me and it gave me so much in my career that I no longer feel able to set myself new goals as a player with the Elephants of Ivory Coast," he said.
"This decision I have made has come gradually, it has slowly matured in my head. I definitely thought it necessary to wait until the qualifying stages for the next AFCON [African Nations Cup] were over. It was also important for me that I do not disturb the dynamics of the national team," he added.
Touré made his debut for Ivory Coast in 2004, and replaced Didier Drogba as captain when the striker retired following the 2014 World Cup.
The former Barcelona player played in all three of Ivory Coast's World Cup appearances, in 2006, 2010 and 2014, and appeared in six African Nations Cups — including when they were runners-up in 2006 and 2012, before being triumphant in 2015.
Touré made 102 appearances for the Elephants scoring 19 goals in the process.
At club level, the four-time CAF African Footballer of the Year is currently trying to force his way back into first team action with his club side, after an apparent snub by new manager Pep Guardiola.