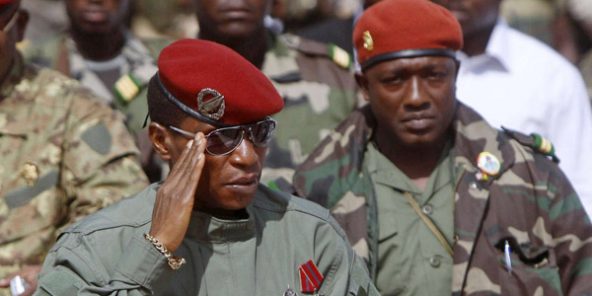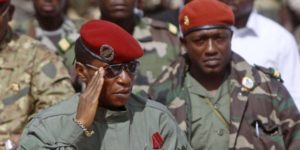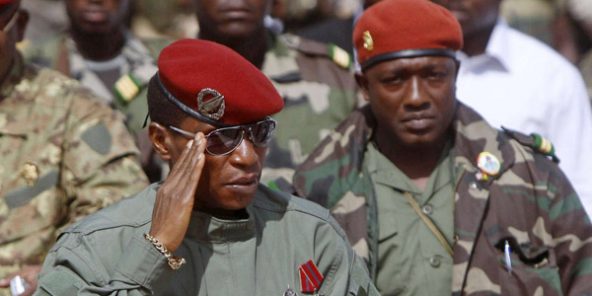 The most wanted man in Guinea, Aboubacar Sidiki Diakité, has been arrested in Senegal on Tuesday after seven years of hide-out.
Aboubacar Sidiki Diakité, alias "Toumba Diakité", former leader of the red berets is accused of connection with a 2009 stadium massacre that killed more than 150 people in the West African tiny nation.
A police communiqué circulated by the Senegalese police says the operation started over a month ago after they had a tip off. "Twelve members of the section of the gendarmerie worked around the clock.  "Toumba", very discreet, lived in Dakar in a bourgeois district close to the city's African Monument De Renaissance statue."
Aboubacar Sidiki Diakité, "aide-de-camp" of former President Moussa Daddis Camara, had gained weight and was hardly recognizable. He used a Guinean license with the name of Aboubacar Barry to pass through the checks," the police said.
Upon his arrest, Aboubacar Diakité acknowledged his identity, confirmed by documents found in the apartment he rented.
Ibrahima Beavogui, spokesman for Guinea's justice ministry, confirmed Tuesday that Diakité had been arrested and was expected to face trial back home in Conakry.
The United Nations Special Representative of the Secretary-General on Sexual Violence in Conflict, Zainab Hawa Bangura, also welcomed the arrest saying that that arrest of Aboubacar Sidiki Diakité represents an important milestone in on-going efforts by the Government of Guinea to establish the truth and ensure accountability for the crimes committed in September 2009, including sexual violence crimes.