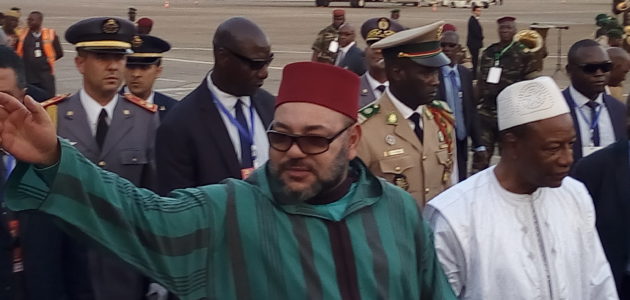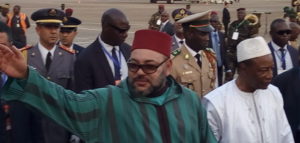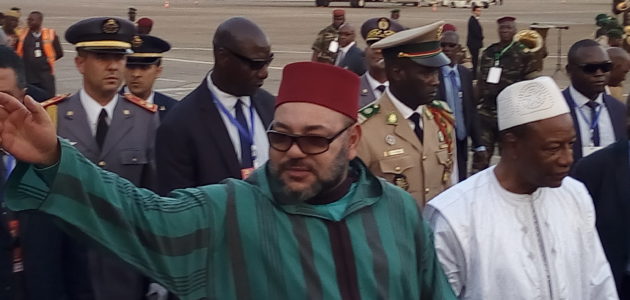 King Mohammed VI arrived Thursday in Conakry, fourth leg of a new African tour started early February, immediately after Morocco's triumphant return to the African Union.
The royal visit to Guinea, after those to South Sudan, Ghana and Zambia, stands as a reunion between two Heads of State, who share love for Africa and hope to see their continent unleash all its potential to ensure development and wellbeing to African citizens.
The in-depth talks between King Mohammed VI and President Alpha Condé would surely touch on the development of Africa and on the challenges facing up the continent at the political, economic, social, and security levels, especially that the Guinean President is since January the new chairperson of the African Union. In this capacity, he represents Africa and defends its interests in various international forums such as Tokyo International Conference on African Development (TICAD) The Forum on China–Africa Cooperation (FOCAC), as well as at the G8 and G20 summits.
Therefore exchanges between the Moroccan and Guinean leaders would mostly focus on African issues.
At the bilateral scale, besides reviewing the centuries-old cultural and spiritual ties binding the two countries, the royal visit to Conakry will be an opportunity to assess the stages covered by economic cooperation since the King's last visit to Guinea in March 2014.
During this visit, a package of agreements were signed and a number of projects were launched, such as the industrial complex Les Moulins d'Afrique.