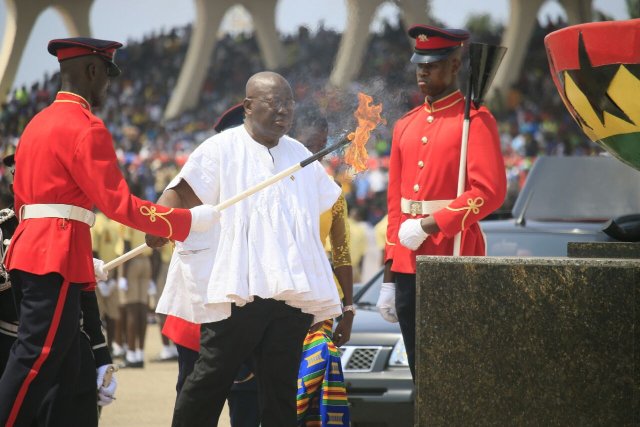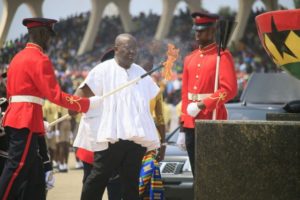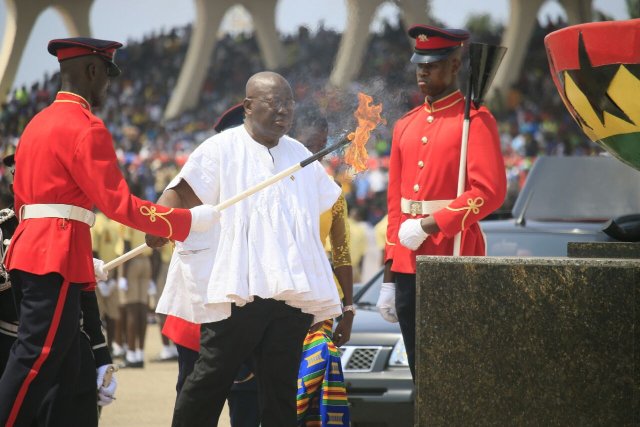 Previously known as the Gold Coast, Ghana was the first Sub-Saharan African country to become independent on the back of Ghana's first President and his Pan-African ethos, Dr. Kwame Nkrumah.
The celebration, the first for President Akufo-Addo, was marked with the traditional march past and parade at the iconic Black Star Square.
The President took the national salute and delivered a speech of solidarity to Ghanaians before lighting the perpetual flame.
Addressing the parade, President Nana Addo Dankwa Akufo-Addo said after sixty years, Ghanaians have run out of excuses, and it is time to set Ghana to rights and get the country to where it should be.
"We have a bright future, and we must mobilize all our resources and all our strengths, here and in the Ghanaian Diaspora, to get to that promised land of prosperity faster," he said.
Zimbabwe's 93-year-old Mugabe, Liberian President, Ellen Johnson Sirleaf, Côte d'Ivoire's Alassane Ouattara and Togo's Faure Gnassingbé joined the colorful event. Others included Vice President of Zambia, Inonge Wina.
Over 30 other African countries eventually gained their own independence in the decade following Ghana's liberation. Kwame Nkrumah played a key role in the march towards independence of a number of African countries.