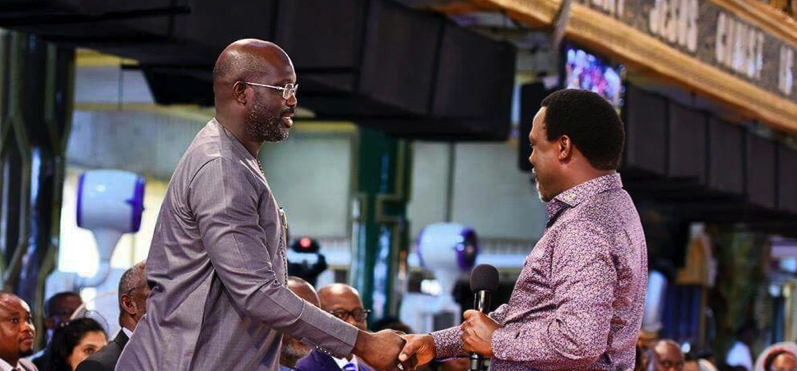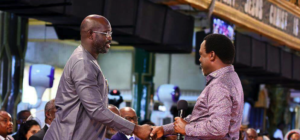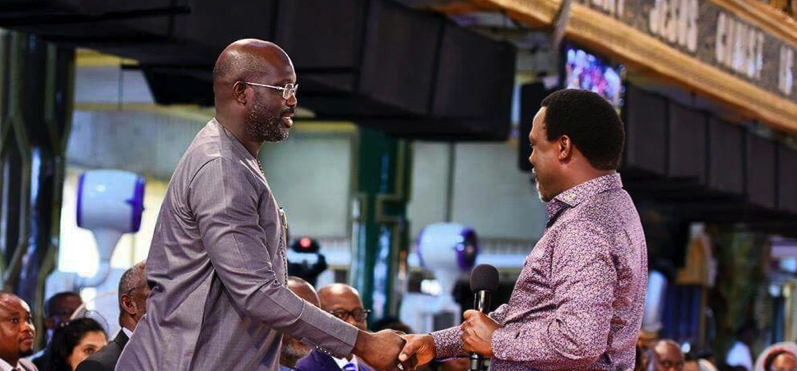 Former world footballer of the year and candidate in the Liberian presidential election, Georges Weah, on Sunday visited Nigeria to seek the support of the country's controversial pastor, TB Joshua, to win the runoff elections in the West African nation.
The presidential runoff elections between Georges Weah and Vice-president Boakai are scheduled for November 7.
During his sermon, which was broadcast live on popular Christian channel Emmanuel TV, TB Joshua warmly welcomed Georges Weah and spoke directly to him.
The pastor reiterated that he was not favoring any particular side of the political spectrum but his own role was to pray for "the will of God" to be done in the nation of Liberia.
The founder of the Synagogue Church of All Nations (SCOAN), TB Joshua, is on record to have predicted major world events, including the death of iconic Michael Jackson, ISIS-inspired terror incidents in Paris and the mysterious disappearance of Malaysian Airlines Flight MH370.
Tanzania's President, John Magufuli; the late President of Ghana, John Atta Mills; Zimbabwean Prime Minister Morgan Tsvangarai and South Africa's opposition leader, Julius Malema, have visited TB Josua in recent years.
Weah, 51, has served as a senator from the opposition Congress for Democratic Change since 2015, after returning home from an international football career to immerse himself in politics. As a political novice, he lost to Johnson Sirleaf in a presidential election in 2005.
Liberia, which was founded by freed US slaves in the 19th Century, has not had a smooth transfer of power in 73 years.