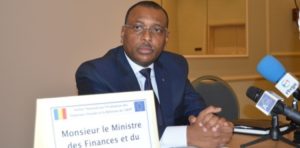 Chad's President Idriss Deby, on Thursday, sacked Finance Minister Christian Georges Diguimbaye and his deputy, Banata Tchalet Sow.
Diguimbaye was replaced by Abdoulaye Sabre Fadoul, the minister-secretary general of the government in charge of institutional reform, who will serve as interim finance minister.
The move of President Idriss Deby comes at a time the central African nation stalled talks with Glencore on restructuring more than $1 billion in debt.
Glencore and its banks agreed in late 2015 to restructure two oil-for-cash loans with Chad, dating from 2013 and 2014, extending the repayment to seven years from an initial four years.
The African nation received the loans to help finance state-owned Societe des Hydrocarbures, Tchad's acquisition of the stake held by Chevron Corp.
However, Chad is seeking to delay repayment of Glencore Plc-led oil-for-cash loans after crude prices plunged.
The International Monetary Fund has said Chad's external commercial debt, most of which is to Glencore, was unsustainable as it eats up most of the country's oil revenues.
The international lender who approved over $300 million in credit for Chad released $48.8 million but said the release of further funds would depend on progress reports at subsequent meetings.