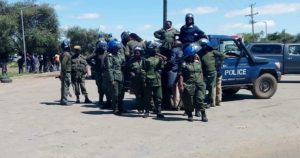 Residents in a slum in Lusaka, Zambia's capital, are violently protesting over a regulation imposed to control the spread of a cholera epidemic in the Southern African nation.
According to news portal Mwebantu, security forces operating in Kanyama have been forced to discharge tear gas after protesters started to throw stones and other projectiles at security forces cleaning up the area in the wake of Cholera outbreak.
Zambia has been struggling with a cholera outbreak, especially in Lusaka, since October last year. Over 2,800 cases were reported so far. The epidemic has claimed more than 60 lives and is spreading at an alarming rate forcing the government to ban street vending, church services and other gatherings in Lusaka's high-density residential areas.
President Edgar Lungu had tasked the Zambian Defense Forces to work with relevant ministerial departments and agencies to fight the epidemic.
The Namibian government has provisionally banned the import of all perishable food, fish, fruits, unprocessed food and water from neighboring Zambia.
Other neighboring countries such as Tanzania and Malawi are reported to have imposed measures to restrict entries by Zambians.