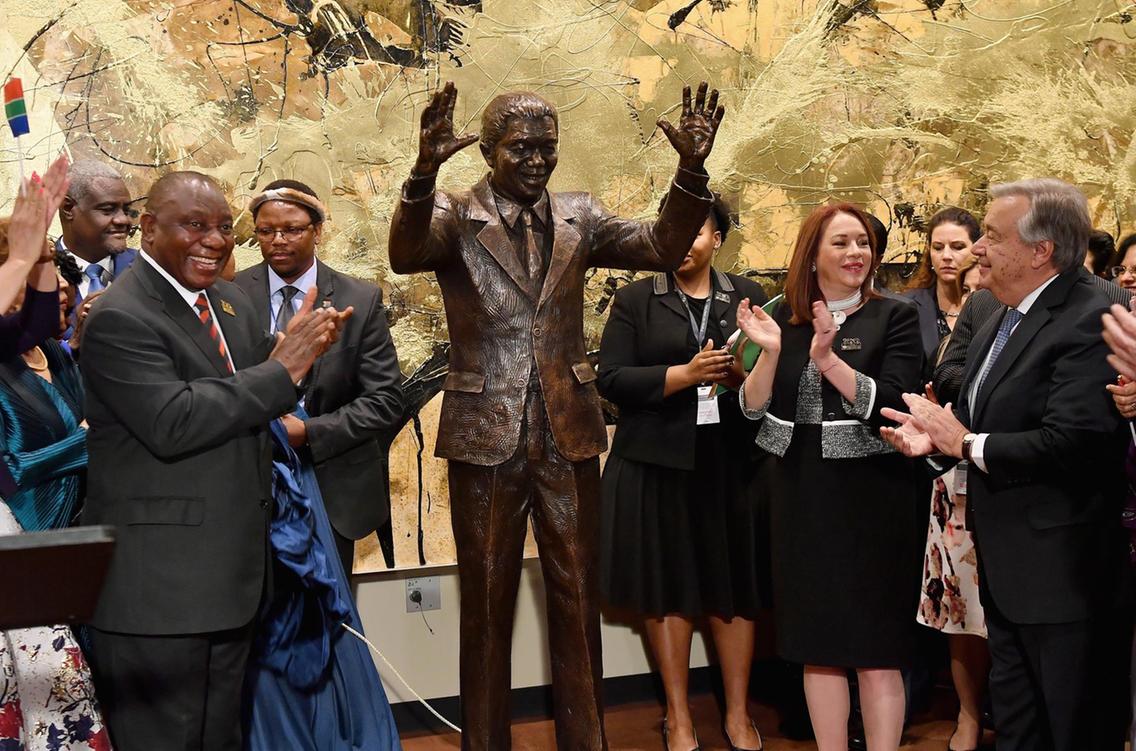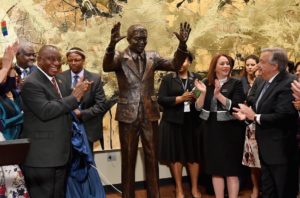 UN Secretary General Antonio Guterres and South African President Cyril Ramaphosa unveiled a life-sized statue of late President Nelson Mandela at the UN headquarters in New York, on the sidelines of the Nelson Mandela Peace Summit, held in New York on Monday.
The 1.8 meter- tall Nelson Mandela Statue was erected in celebration of what would have been Mandela's 100th birthday this year.
Speaking at the unveiling, Secretary-General Guterres highlighted Mr. Mandela's humility as a hallmark of his greatness.
"When he achieved the pinnacle of power as president of his beloved country, Madiba set an example that still resounds throughout Africa and the world – he stepped down after one term, confident in the durability of South Africa's newfound democracy … He did not pursue power for its own sake, but simply as a means of service," said the UN chief.
The UN General Assembly also honored Nelson Mandela with a pledge to build a just, peaceful and prosperous world and to revive the values for which the former South African President and anti-apartheid campaigner stood.
At the Nelson Mandela Peace Summit, Member States adopted the first resolution of the General Assembly's 73rd session, "committing to demonstrate mutual respect, tolerance, understanding and reconciliation in [their] relations."
"We resolve to move beyond words in the promotion of peaceful, just, inclusive and non-discriminatory societies, stressing the importance of the equal participation and full involvement of women and the meaningful participation of youth in all efforts for the maintenance and promotion of peace and security," read the resolution.
"Sustainable development cannot be realized without peace and security, and peace and security will be at risk without sustainable development. We reaffirm our pledge that no one will be left behind," the member states vowed in the resolution.
The UN has declared 2019-2028 as the "Nelson Mandela Decade of Peace" and issued a political declaration to promote disarmament.
The declaration adopted at Monday's peace summit identified the personal qualities of Mandela, who spent decades in prison for his stand on Apartheid that made him a transcendent humanitarian.