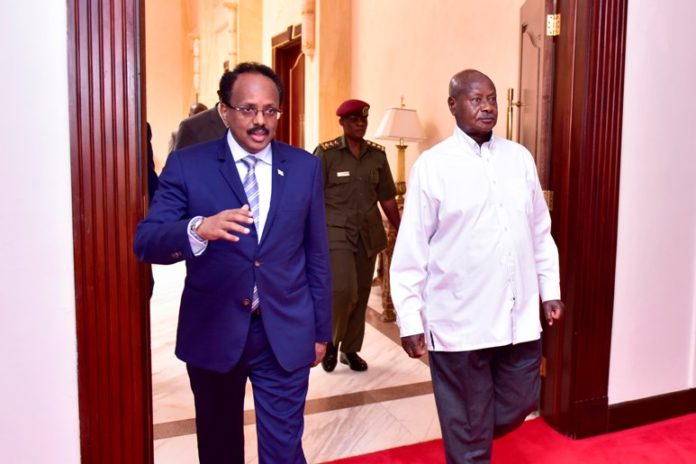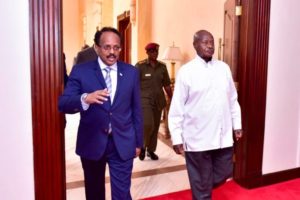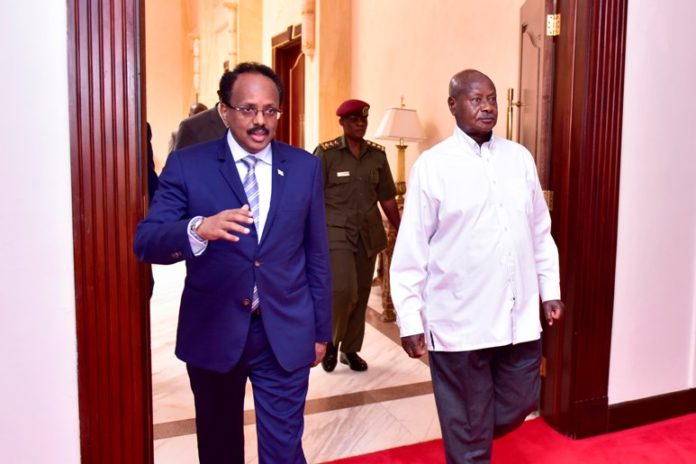 Ugandan president Yoweri Museveni on Saturday held talks with his Somali counterpart, Mohamed Abdullahi Mohamed Farmajo, in Kampala.
According to the State House statement, the two leaders discussed areas of cooperation between Somalia and Uganda particularly in the areas of peace, security, defense, education, trade and investment.
Uganda is the biggest contributor of troops to the African Union Mission in Somalia (AMISOM), a 20,000 strong peacekeeping force deployed to pacify the Horn of Africa country in 2007.
President Museveni noted that the Tripartite Agreement that had been concluded in September 2018 between Ethiopia, Eritrea and Somalia is being implemented adding that it has greatly led to the economic development of the three states.
He said if the objectives of the agreement framework were achieved, the initiative would facilitate the resolution of political differences and end conflict in the Horn of Africa Region.
The pact, signed in September by leaders of the three Horn of Africa nations, followed a cessation of decades-long hostilities between Ethiopia and Eritrea in June this year. The two countries agreed to reopen embassies and resume flights between Addis Ababa and Asmara.
In July, Somalia and Eritrea also restored relations after nearly 15 years of animosity partly characterized by allegations (by Somalia) that Eritrea was financing insurgents.
Somalia and Ethiopia have been actively working to achieve the normalization of relations between Djibouti and Eritrea.