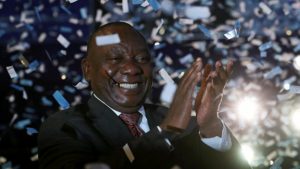 In South Africa, the ruling African National Congress (ANC) has won parliamentary elections with 57.5 percent of the vote and retained power in eight of nine provinces, the electoral commission said.
The result was the anti-apartheid party's worst-ever electoral victory. The party has ruled South Africa since the end of apartheid 25 years ago.
According to analysts, the country's struggling economy, corruption and mass unemployment, particularly among young people has led to the ANC's reduced majority in this election.
At the ANC victory speech, President Ramaphosa who took over the ANC party leadership from Jacob Zuma in 2017, promised to end corruption, "whether some people like it or not".
"We have learnt our lesson. We have heard the people of South Africa. We have heard the very clear message of what they expect from us," he said.
The radical Economic Freedom Fighters, a dissident party from the ANC has won a little more than 10 percent of the vote, a big jump from its first national election (6.35 percent).
The main opposition party, the Democratic Alliance, won more than 20 percent of the vote, a decrease from 2014. The DA made big gains in local elections in 2016 under the leadership of Mmusi Maimane, the party's first black leader, who took charge in 2015.