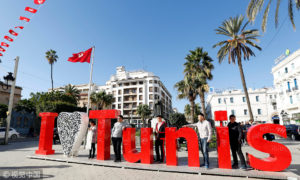 Tunisian government said it is expecting 9 million tourists in 2019. About 2 million people had visited the country as of May 10, 24% up from last year.
The country seeks to attract 1 million French tourists, 640,000 Russian tourists, and 390,000 German tourists this season.
Last month, the Minister of Tourism Rene Trabelsi said that the huge turnover of traditional European markets and the increase in applications to the Tunisian destinations were the reasons behind the promising results at the beginning of this season.
In North Africa, Algeria came first with around 496,000 Algerians visiting Tunisia by end of last March while 473,000 Libyans had Tunisia as their destination, around 32.2 percent increase.
Tourism revenues jumped in 2018 to $1.36 billion as the country saw the arrival of a record 8.3 million visitors, according to data from the tourism ministry.
For many across the country, the economic situation has gotten worse, not better, since the uprising that toppled Tunisia's long-time president Zine El Abidine Ben Ali in 2011.
The National Institute of Statistics put the unemployment rate in Tunisia at 15.2 percent in 2015, the year the country last conducted a national census.