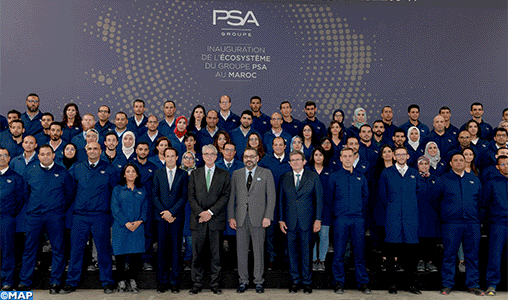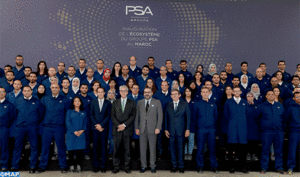 PSA group's new plant in Kenitra, inaugurated Thursday, June 20 at an official ceremony chaired by King Mohammed VI, has required a €280 million investment.
The PSA group's new plant will spur the development of the Moroccan  automative sector and mirrors the excellence of the "Morocco Made". The unit is expected to produce annually up to 100,000 vehicles and associated engines. The production capacity will be doubled to 200,000 by 2021, instead of 2023 as initially planned while creating up to 4,000 direct jobs.
King Mohammed VI also launched during the ceremony the extension works of this industrial complex. The extension will be completed before the end of 2020.
The French manufacturer will have mobilized so far investments worth 3 billion dirhams (€280 million) for its Morocco-based project.
The PSA ecosystem revolves around 62 industrial units with an integration rate of 60%.
The investments injected by the equipment manufacturers that supply PSA have totaled 16 billion dirhams, said Minister of Industry, Moulay Hafid Elalamy, at a press briefing shortly after the inauguration of the Kenitra plant.
PSA executive vice president for the MENA region Jean-Christophe Quemard said Morocco is at the heart of the growth strategy of PSA Group, which is today one of the most successful car manufacturers in the world.
"It is in the Kingdom that our Group has chosen to set up its Regional Decision Center, and to develop a Research and Development Center integrated in the PSA Group's global R&D network", underlined Mr. Quemard.
During this ceremony, which was marked by unveiling the new Peugeot 208, produced in the Kenitra factory, the Moroccan Sovereign visited the different workshops of the PSA factory.
The Kenitra plant output, mainly the Peugeot 208, is destined for nearly 80 countries, particularly in Africa and the Middle East and also in Europe.
"Peugeot 208 will be marketed in the fourth quarter of 2019 simultaneously in Morocco and Euorpe," says the car manufacturer.