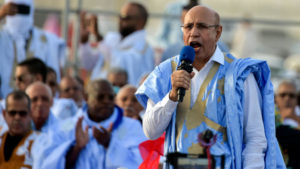 Mohamed Ould Ghazouani was sworn-in Thursday as Mauritania's new president for a five-year term.
The inauguration was attended by the heads of states of 12 African countries along with delegations from several Arab and European countries.
The United States has also sent a delegation led by John Deaver Alexander III, Senior Advisor for Energy, Overseas Private Investment Corporation.
Mauritania is experiencing democratic handover of executive power for the first time since independence with the exit of Mohamed Ould Abdel Aziz, who had been in power for a decade.
Ould Abdel Aziz came to office in August 2008 after a coup d'état. He won elections after restoring order in 2009 and then in 2014 for final term.
Ghazouani, 63, is the tenth president of Mauritania since its independence from France in 1960.
He won the June 22 presidential election with 52% of the votes.
In his first speech on Thursday, President Ghouzani said Mauritania's people had written an important page in the country's history and confirmed the maturity of its political system.
He pledged to be a 'president for all Mauritanians' of different political orientations.