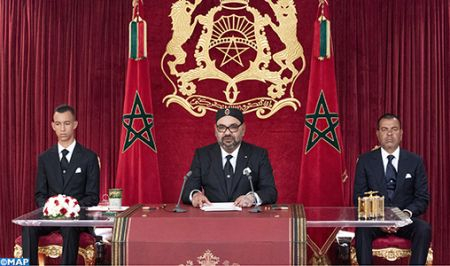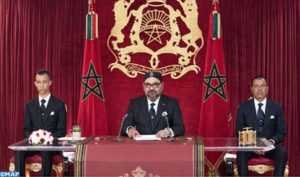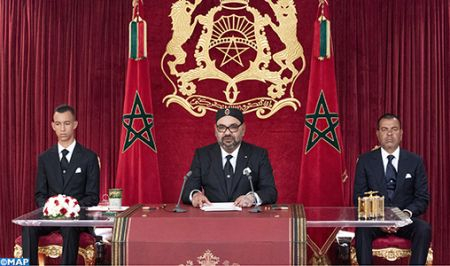 King Mohammed VI said on Tuesday that he looks forward to seeing a new development model crowned with a new social deal that includes the State, its institutions, the private sector, political parties, trade unions, civil society and the citizens.
In a speech he delivered from the city of Al Hoceima on the occasion of the 66th anniversary of the Revolution of the King and the People, the Moroccan Sovereign said that he wants the new development model to serve as the backbone of the new phase marked by accountability and leading to a comprehensive take-off.
He went on to explain that the purpose of revamping the development model and of the projects and programs launched is to ensure Morocco's advancement, improve the citizens' living conditions and reduce social and regional disparities.
The Moroccans residing in rural zones are most affected by difficult living conditions, added the Monarch, saying that this population needs further assistance, greater attention and continued action to respond to their pressing needs.
For this reason, "I have called, time and again, for measures to promote development in rural areas, through income-generating activities, employment opportunities, faster access to basic social services, in addition to school enrolment measures and initiatives to combat poverty and vulnerability", underlined King Mohammed VI.
He cited in this regard the six-year national program worth $5.2 billion launched to reduce disparities in rural areas, urging the populations concerned to be proactive in order to change their status in society and improve their living conditions through education, which is available throughout the country, vocational training and social welfare programs.
The Moroccan Sovereign also said that all resources in rural areas should be tapped, particularly communal farming land, calling for the use of these lands in investment projects in the agricultural sector.
According to King Mohammed VI, the government efforts are not sufficient to ensure the success of such a major operation. So, he called on the private sector to step in to inject strong momentum into agricultural investment projects, jobs and services, particularly in rural areas.
In the same vein, "we should make the most of the opportunities and possibilities offered in fields other than that of agriculture, such as rural tourism, commerce and local industry", affirmed the King, noting that the aim is to boost and encourage private initiative and self-employment.
He also stressed the importance of vocational training, especially in villages and suburban areas, to provide youths with skills to enable them to enter the labor market and contribute to the country's development.