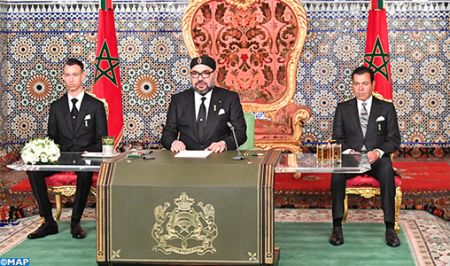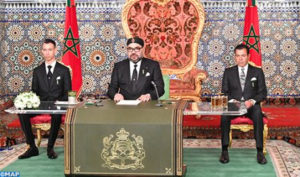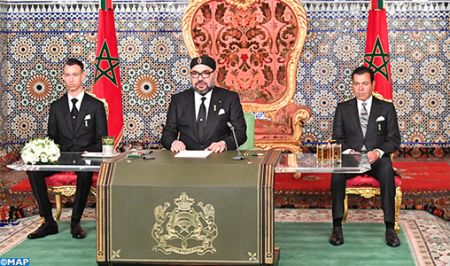 King Mohammed VI has renewed Morocco's determination to continue to work honestly and in good faith to achieve a political, realistic, practical and consensual solution based on the UN-led exclusive political process and the relevant Security Council resolutions.
In a speech made on Wednesday on the occasion of the 44th anniversary of the Green March, the Sovereign said the autonomy plan offers that solution which is "the only way forward towards a settlement guaranteeing full respect for the Kingdom's national unity and territorial integrity".
The autonomy plan offered by Morocco for the resolution of the Sahara issue is not only serious and credible as described by the international community, but also rooted in sound principles, explained the Monarch, noting that the Moroccan stand has been reinforced by the growing number of States – now more than 163 – which do not recognize the fictitious entity [pseudo-SADR].
Morocco has always been clear in its position concerning the Moroccanness of the Sahara as much as in its firm belief in the justness of its cause and the legitimacy of its rights, stressed the Sovereign.
The Moroccan standing has also been consolidated with the partnerships and agreements signed by Morocco with the influential powers as well as with many countries and sister nations, and which concern all the Kingdom's regions, including the Saharan provinces, added the King.
The Monarch also underlined the importance of the Moroccan southern provinces as Morocco's gateway to sub-Saharan Africa, and a link between the Kingdom and the rest of Africa from the geographical, human and economic perspectives.
He stressed in this connection the importance of the African continent in the country's foreign policy, and recalled the numerous royal visits paid to African countries and during which nearly 1,000 cooperation agreements were signed.
This has had a tangible positive impact on Morocco's economic, political, cultural and religious standing on the continent, said King Mohammed VI, expressing his firm determination to make Morocco a key player in shaping the Africa of the future.
Morocco seeks to increase the volume of trade with other African countries, to boost its investments in the continent and to launch a new phase based on mutual benefit, underlined the Monarch, saying that the achievement of these goals hinges on the fulfillment of Morocco's commitments as well as on expanding its presence in Africa.
King Mohammed VI also renewed Morocco's strong commitment to set up sound, solid relations with sister Maghreb countries as the current situation in the region and in the Mediterranean basin requires positive action.
"Hopes, just like expectations, are running high; and the challenges are many and complex. Regrettably, some are not taking the situation seriously", said the Monarch.
"We have one and the same enemy, namely inaction and limited development, which are having an adverse impact on the peoples of our five Maghreban countries", underlined the King.